March 26, 2023

Fifth Sunday of Lent
In today's Gospel, we are told that Jesus was informed by his friends Martha and Mary that their brother was seriously ill. Strangely, he delays his leaving for two days before he comes to their house. The whole story is full of symbolism and signs that point to a deeper reality. It is worth noting that Martha and Mary merely bring the plight of Lazarus to Jesus, without requesting or demanding that he come immediately. We see Jesus does not act according to human timetables; in human terms he is late but it all fits in, even death, in God's plan. When Jesus arrives, Martha voices her regret but immediately she professes her faith. Jesus is quick to reassure her: "Your brother will live again." But for this miracle to happen Jesus needs her belief. "Do you believe this?" And Mary once again professes her faith: "Yes Lord, I believe that you are the Christ, the Son of God." Jesus asked to be taken to the tomb of Lazarus and was greatly distressed and he wept so much that the Jews remarked: "See how much he loved him." In Jesus we see the care and concern of our God for all who suffer. The death of Lazarus does not mean that it is too late for Jesus to be his life. When Jesus reached the tomb he asks that the stone covering the tomb be taken away. For Jesus, time, like death itself, is no barrier: "If you believe, you will see the glory of God." Before Jesus works the miracle He prays, He has full trust that His Father will listen to him. In a loud voice Jesus calls: "Lazarus come forth!" The miracle is that hearing the voice of the Son of God, Lazarus lives again. The same call of Jesus is addressed to all of us; He challenges and invites us to come alive again: "Come forth!" The story of the raising of Lazarus from the dead proclaims that Jesus is the Lord of life; that Christian life begins when we hear his word and obey it. We may be dead in the midst of life and Jesus can bring us to life again!

(Courtesy of tkayala.com )
Thank you!!!!
We wish to sincerely thank Father Larry Richards and our Pastoral Council for all that they did to make Thursday's event a success! It was an exceptional evening, beginning with incredible prayer and worship from our music ministry. We thank our musicians and the choir for all of their hard work in preparing and for adding such a wonderful component to the event. They outdid themselves! We are so grateful that Father Larry could come to our Parish and proclaim his faith and message with us. He shared the importance of listening to God in prayer rather than always speaking to Him, the necessity of fully surrendering to allow God's will to be done instead of imposing our own, and how to pray with Jesus – to be with Him intimately and feel Him beside us with unwavering and merciful love. A special thanks to the members of the Pastoral Council for all of their magnificent work in booking and orchestrating this event and for bringing such a special guest speaker to our Parish. We also extend a thank you the members of the Catholic Women's League for preparing and organizing the social time and refreshment portion of the evening, and to all who assisted and volunteered their time and talents to make the evening go so well, including our ushers and those who helped with Fr. Larry's book sales. Last but not least, to all who joined us in attendance and felt the Holy Spirit in our midst – we thank you. If you were unable to be present for this memorable experience and would like to view the event, you can watch Thursday's live-stream by using this link: https://www.youtube.com/watch?v=zmgqTeUxrYQ
Development and Peace – Solidarity Sunday
Solidarity Sunday is a Sunday in Lent to recognize that in a world of more than 7 billion people that we are responsible for one another, that we were created to live in solidarity. A Sunday that helps us to reflect on how in the past we have contributed to the development and education of many in our world who live on the outermost fringes of society. A Sunday that reminds us that for more than 50 years through Share Lent, Development and Peace has been an expression of the Canadian church's option for the poor and a concrete means of responding to Jesus struggling today in the global poor.

This Solidarity Sunday, Development and Peace ― Caritas Canada's Stand for the Land campaign invites you to give generously and thanks you warmly for your generosity. We will take up our Share Lent Collection in support of D&P on Palm Sunday weekend. Envelopes have been sent out with our Easter mailing and we will also have extras available in the foyer. Even though we will begin the collection on Palm Sunday, we will keep it open for the Easter season.
Your donation transforms the lives of some of our most vulnerable sisters and brothers across the world. Our solidarity rests on your generosity. "The support we receive from Development and Peace has been very important for me. It allowed me to find myself, to live again."— Raquel Soto, participant in the documentary filmmaking school of the Asociación Campesina de Antioquia (ACA, Peasant Association of Antioquia).
Such is the difference you can make by giving to our Share Lent parish collection. Thank you for helping us build a world of justice.
Blooms of Love - Easter Flowers in Memory of Our Beloved Deceased
We thank the parish for their overwhelming support of this memorial initiative and we wish to inform everyone that the 100 Easter plants have all been purchased. The altar at Easter will be a beautiful display of our hope in the Resurrection and our love of those who have gone before us.
Taizé Prayer for Lent
This Tuesday, March 28th at 7:00pm, we will have our Taizé Prayer Service for Lent. In the final weeks before Easter, as we conclude our Lenten journey, we invite you to join us for quiet prayer, meditation, and beautiful music. We hope that many will attend and it is open to all, so please invite family members and friends.
Catholic Women's League News
Fish Fry Fundraiser: The Catholic Women's League is holding a Fish Fry Fundraiser on Friday, March 31. Once again it is in conjunction with Stephanie, the Lunch Lady. All orders must be picked up at the Lunch Lady kitchen behind Matteo's Restaurant on East Main Street. Tickets can be purchased before and after masses this weekend at the back of the church. The dinners are $13 for a 1 piece fish and chips and coleslaw dinner and $17 for a 2 piece fish and chips and coleslaw dinner. Tickets must be purchased in advance. You can also call or email Lorrie to order your fish dinners 905-734-4828 or lmack@cogeco.ca Please support this worthy fundraiser as this allows for donations to our parish and community organizations. See the posters in the foyer for any other additional information. Note: this will be the only CWL Fish Fry during Lent, as there will not be one on Good Friday. So please support this fundraiser by getting your orders in this weekend! Thank you.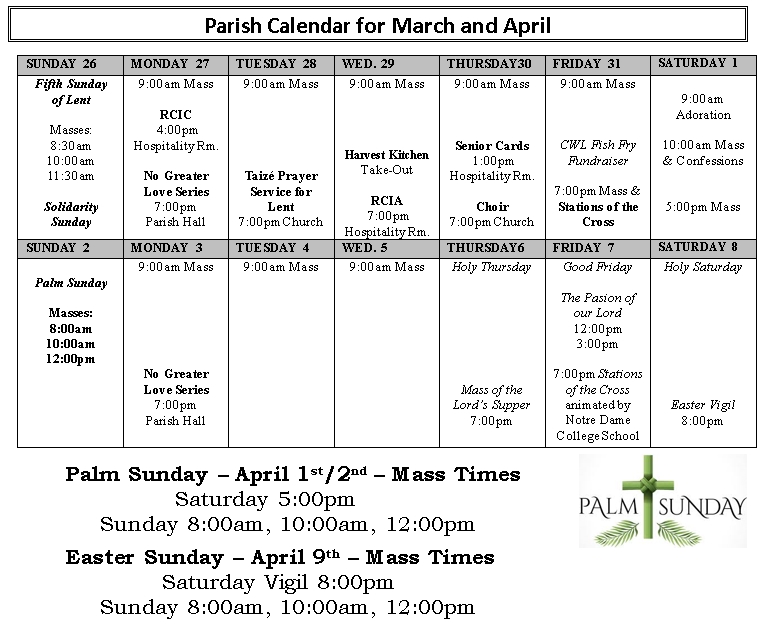 Please remember the Poor Box as you leave the Church.
Worth repeating:
Creating Three New Areas for Persons with Disabilities.

Area #1 – The choir seats. Except for the 10:00 Sunday morning Mass, the choir seats go empty. So – for all Masses except for the Sunday 10:00 Mass there are several places available; choir seats have been arranged creating space to easily accommodate walkers. A bonus here is that outside of the Sanctuary, these seats are the most comfortable seats in the church.

Area #2 – The pew immediately in front of the baptismal font. There are places in this pew easily for three persons and perhaps four persons with walkers. The "disability" sign is attached to this pew. Adjacent to the font as well, there is space or two for two persons in wheelchairs.

Area #3 – The last pew on the side of the church opposite the confessional /reconciliation room. This pew has been altered to create more space for walkers. It can accommodate three walkers comfortably. There is a place adjacent also perfect for a wheel chair. The "disability" sign is attached to this pew.

Two further points!

At each Sunday Eucharist, a Minister of the Eucharist will bring Holy Communion to the handicapped areas.

All parishioners are asked to please respect these designated areas as places for persons with disabilities.

The Stewardship Committee's decision is clear that we must respect safety and fire codes. The foyer chairs against the back wall unfortunately, violate the fire code. Our hope is that designating these three new areas for persons with disabilities will be satisfactory. Thanks very much for your cooperation.
Catholic Marriage Tribunal
If you are considering remarriage in the Catholic Church at some point, or hoping to enter a marriage with someone previously married, please speak to a priest, or contact the Diocesan Catholic Marriage Tribunal in St. Catharines at 905-687-8817. Information Pamphlets are available through the parish.
PLEASE READ THIS IMPORTANT NOTICE:
Due to the privacy laws, the hospital does not list our parishioners by address or parish unless you state your religion as ST. KEVIN PARISH when you are admitted. It would help the parish visiting team if when the hospital asks religion – you respond ST. KEVIN'S PARISH. If you or a family member enter a hospital for several days please be sure to call the parish office to let us know if you wish a visit. If you wish the Anointing of the Sick before an operation, either at home or while in the hospital, be sure to inform the parish office. A priest will come as soon as possible to administer the Sacrament of the Anointing of the Sick. We also have a group of lay people from our parish who each week visit or bring communion to Catholic parishioners in the hospital. Please, we need to know that you are there!
A Review of Some Parish Policies
Requests: We often receive requests for baptism or marriage, or Pastoral References for teachers, who are not members of St. Kevin's Parish. Examples would be: They might like our church and so want to get married here although they live elsewhere. Or: they were baptized here and so they would like their child to be baptized here although they live elsewhere. Or: I went to Notre Dame College School. The main point here is "they live elsewhere". Now – wherever elsewhere might be, there is a Catholic parish there. Our policy is to minister to the parishioners of St. Kevin's. We have more than 3400 families; there is a lot of ministry work for us to do here. Our focus and attention is first and foremost on our own parishioners.

Parishioners should be registered: And here it is important to remember – that all of our parishioners should be registered in the parish, that is, on our books with names and phone numbers and addresses.

Young Adults: There is a point when the young person must register in our Parish. It does not suffice to say my parents are members of St. Kevin's and I was confirmed at St. Kevin's when that person has been living on his or her own. The young adult should not depend on the faith and loyalty of parents or grandparents but must take ownership of his or her own faith. That means, as well, the young person should be engaged in the financial support of the Parish.

Support of the Church: One of the precepts of the church – parishioners should be generous in supporting the material needs of the church. Today, we do this best by regularly using envelopes to help with the expenses of administering a very large parish such as St. Kevin's.

Needing a Letter of Permission: Hospitality is a wonderful characteristic of St. Kevin's Parish. And we do want to be open and hospitable to folks who are not registered members in the parish. Yet – we must be careful to observe church laws and regulations. We will consider doing a marriage or a baptism of those folks from elsewhere. But – we must ask that the person or persons making this request of us have a "letter of permission" from elsewhere, that is, from the parish in which they are actually living - a letter from the Pastor of that parish giving us permission to do the baptism or marriage. Without such a letter of permission our policy must be to refuse to do such baptisms or marriages.

Weddings: To be married in St. Kevin's, one should be registered in the parish. Please call at least six months in advance to make arrangements. If not a registered member of our parish, we must have a Letter of Permission from the Pastor in which the person(s) is registered. (See above.)

Baptisms: To be baptized in St. Kevin's, one should be registered in the Parish. Please call as early as possible to arrange a baptism. If one is not registered, we must have a Letter of Permission from the Pastor in which the family is registered. (See above.)

Pastoral References for Teachers: Pastoral references for teachers are given for those persons who are registered in St. Kevin's Parish. The Pastoral Reference for teachers testifies that the person practices his or her faith regularly. Sunday Eucharist is the great Christian norm for the practice of the faith. The Pastoral Reference for teachers inquires as to how active the person is in participating in different dimensions of parish or civic life.

Godparents / Christian Witness for Baptism: At baptism, a Roman Catholic sponsor is called a Godparent. All Godparents for Baptism should be practicing Catholics. One of the sponsors at baptism must be a Roman Catholic, 16 years of age and already confirmed. A non-Catholic sponsor is called a "Christian Witness". (This presumes that the non- Catholic is indeed a practicing Christian and baptized in a Christian church). In choosing a Godparent for baptism, parents should keep in mind that a Godparent at baptism should also be the person's sponsor at Confirmation.

Confirmation Sponsors: A Confirmation sponsor must be a practicing Roman Catholic, already confirmed and 16 years of age. We ask the sponsor at Confirmation to have a brief meeting with the Pastor of his/her Parish. Simply inform the Pastor of your desire to act as a Confirmation sponsor at St. Kevin's and kindly ask the Pastor to sign the Sponsor Form. The Sponsor Form itself presents in a clear way the expectations for a Confirmation Sponsor.

Parish Pastoral Practice.
• If someone is seriously sick at home or in the hospital, please call the office. One of the priests will be happy to visit.
• If one is unable to come to Sunday Eucharist over a long period of time, please call the office and arrange for a communion visit on the part of our Eucharist Ministers.
• When spending time in the hospital, please indicate that you are Roman Catholic and a member of St. Kevin's.
REMINDER:
Are You Registered in Our Parish?

Please do not take for granted that you are registered in the parish just because you attend Mass here. If we have no record of your parish membership, it could be quite embarrassing to us, or to you or your family, when someone wishes to make wedding plans, have a baby baptized, or if you have been asked to act as a sponsor for baptism or confirmation. Please fill out a registration form. This form is on the shelf in the book stand in the foyer of the church. When you have completed the form, place in the collection basket or return it to the Parish Office