Fifth Sunday of Lent
March 18 , 2018
Solidarity Sunday

From Father Vijai:
Congratulations Rana!

As some of you may have already read in the newspaper or online, we are so pleased to share and congratulate Rana Bshara for being named International Woman of the Year in Welland!!!
The award is presented annually by the Welland Heritage Council and Multicultural Centre. Rana received the award at its 14th Annual International Women's Day event earlier this month. The award recognizes the contributions of women to Welland and the surrounding communities through their hard work and dedication. We, as a Parish Community, were blessed to sponsor Rana and her family when they came from Syria to Canada back in August 2016. Since then it has been a pleasure to have Rana, Tony, Soleil & Ghassan be a part of our community and we are so proud of their accomplishments. We congratulate Rana for receiving this award – she is most deserving!

First Communion Retreats:

On Tuesday, Wednesday, and Thursday of this coming week we will have our First Communion Retreats in the Parish Hall. This year we have 105 students from our three elementary schools who will receive the Sacrament of First Eucharist. Additionally, we have 12 Grade 2 students who are part of the Rite of Christian Initiation of Children: 9 children who will be Baptized and 3 students who will make a Profession of Faith on Easter Sunday, and who will of course receive Holy Communion as well. I ask that you keep all of these children in your prayers as the Easter season approaches us.

RCIA Day of Recollection / Practice:

On Saturday, March 24th our RCIA catechumens and candidates will gather for a time of recollection from 9:30a.m. – 12:00p.m. This will be the last gathering prior to the Easter Vigil, where they will receive the Sacraments. Also during next Saturday's gathering, they will complete a walk-through of the Easter Vigil and how the Sacraments will be performed. I also ask that you pray for RCIA members as they are soon welcomed into our faith.

Our journey together for peace continues…
SOLIDARITY SUNDAY
Solidarity Sunday is a Sunday in mid-Lent to recognize that in a world of more than 7 billion people that we are responsible for one another, that we were created to live in solidarity with one another.

A Sunday that compels us to ask the question Pope Francis has asked: What kind of a world do we want to leave to those who come after us, to children who are now growing up?

This year it is a Sunday that helps us recognize that we are "Together for Peace."

We focus on a several symbols that help us to understand and reflect on this year's theme: a bridge to represent dialogue; an olive branch to indicate peace; an agreement to show the result of dialogue; and handshake as a sign of peace.

A Sunday that helps us reflect on how in the past we have contributed to the development and education of many in our world who live as Pope Francis has said on the outermost fringes of society.

A Sunday that reminds us that for 50 years through Share Lent, Development and Peace has been an expression of the Canadian church's option for the poor and a concrete means of responding to Jesus struggling today in the global poor.
Our Share Lent collection will take place on Palm Sunday.
You will have received your Share Lent envelope in our Easter Mailing.
We encourage your generosity to our Share Lent Collection that will be taken up next week! Each donation is used to help our sisters and brothers all over the world — from Lebanon to Cambodia, to Nigeria and beyond! The theme of our Share Lent campaign Together for Peace, invites us to build peace through dialogue and reconciliation and to consider mercy as a source of hope for the future. This is what Pope Francis underlined on the occasion of the Jubilee of Mercy: "Mercy is the force that reawakens us to new life and instils in us the courage to look to the future with hope." Thank you for helping us create a future filled with hope!
Please also join us for the Way of the Cross "Together for Peace"
on Friday, March 23rd following the 7:00p.m. Mass.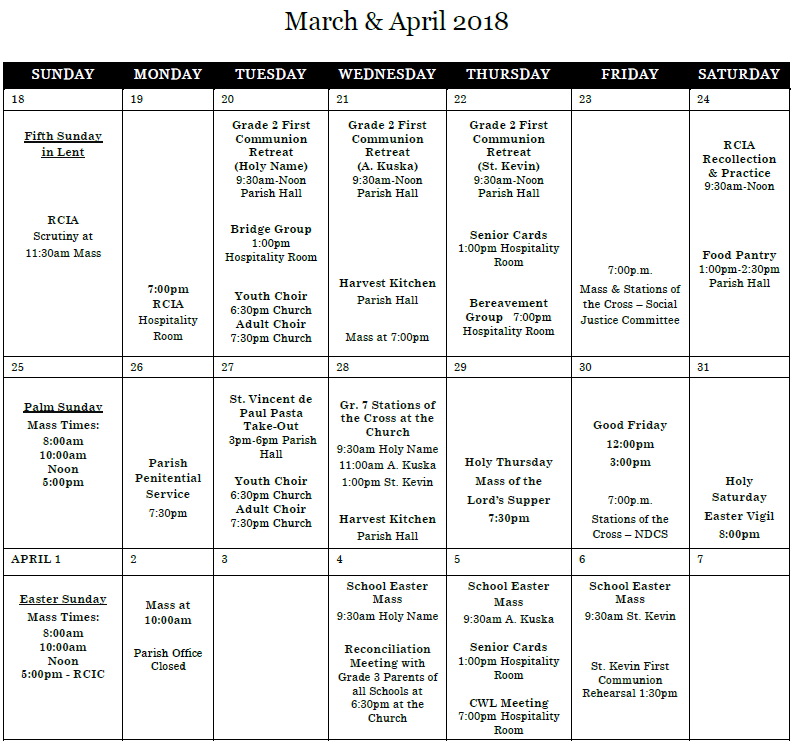 Society of St. Vincent de Paul – Pasta Take-Out
Tuesday, March 27th – 3:00 p.m. – 6:00 p.m.
Parish Hall – Northcote Entrance.
Pasta, meatballs, salad and roll - $10.00
Dozen Meatballs - $10.00
Container of Sauce - $5.
Tickets are on sale in the foyer or place an order by email ssvpWelland@gmail.com
Food Bank
Needs of the Food Pantry:
Week of March 18th:

Plastic grocery bags!!!!!!
Coffee;
1kg peanut butter;
cereal

Thank you for your contributions. Our food bank relies on the generosity of our Parishioners!
Please remember the St. Vincent de Paul donation box in the foyer after each Mass.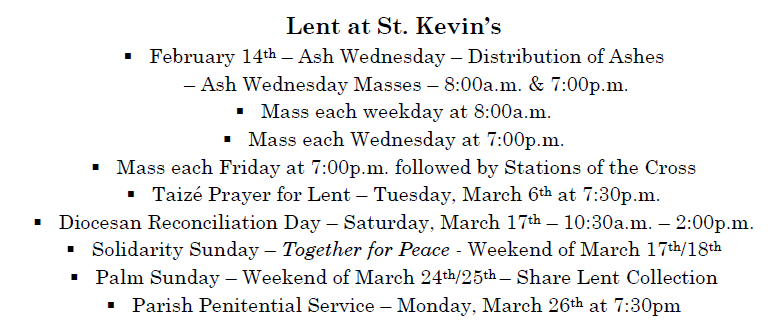 ATTN: Eucharistic Ministers / Lectors / Altar Servers
The schedule for March – June 2018 has been sent via email last week for those who have signed up to receive an electronic copy and post mail for those who have not. If you have not received yours, please email stkevinoffice@gmail.com or pick up a hard copy from the vestry.
Catholic Women's League News:
Next meeting is Thursday, April 5th at 7:00p.m. in the Hospitality Room.

Welland Region will be hosting this year's 60th Convention:
Tuesday, May 22nd – Opening Mass at St. Alfred's Church – 272 Vine Street, St. Catharines. The Celebrant is Most Rev. Gerard Bergie and Mass will take place at 6:30p.m. Reception to follow at 8:00p.m.
Wednesday, May 23rd – Takes place at the Holiday Inn and Suites Parkway Conference Centre – 327 Ontario Street, St. Catharines. Registration is from 7:45a.m. to 8:45a.m. Rosary at 8:45a.m. Lunch at Noon. Banquet at 6:00p.m. Tickets: Registration only (no meals) $15. Lunch is $35. Banquet is $50. All day is $75. CWL will pay half of this for its members. Deadline is April 18th.

Check our Bulletin Board for more information or contact Ann at 905.735.5400.
Holy Name Society
Just a notice to all of the men who will come out to our Holy Name Meeting on Tuesday, March 20th – it is now taking place at 6:30p.m. at St. Anthony of Padua Church.
2018 Bishop's Gala
The Niagara Foundation for Catholic Education is hosting the annual Bishop's Gala April 20, 2018, 5:30p.m. at Club Roma, 125 Vansickle Road, St. Catharines. This event supports students in need throughout schools of the Niagara Catholic District School Board. For information please contact Sherry Morena – 905.735.0240 ext. 213.
Mass Schedule for the Week of March 19th – 24th, 2018

Monday
March 19

Tuesday
March 20


Wednesday
March 21


Thursday
March 22


Friday
March 23


Saturday
March 24


8:00 am

Ankica Vrbanek
Lena Stuart
Andy Hrin
Filomena Politi

8:00 am

Stéphanie Boutet-Fréchette Rhodes

8:00 am

Annie Catalfamo

7:00 pm

Joe
Wagner



8:00 am

Special Intention

8:00 am

John Difiore

7:00 pm

Joseph Mulligan

10:00 am

5:00 pm

Oresto Mazzei
Mary Lenk
Achille & Gilda Giammarco
John Loughnane
Please remember the Poor Box as you leave the Church.
Q & A with the Parish Team
Q: Can I drop in anytime to see a Priest?

A: Although our Priests spend a considerable amount of time here in the office on weekdays doing a variety of administrative duties, quite often they are out and about performing various aspects of their ministry. They may be in the Church presiding for a funeral, visiting one of our schools, anointing a Parishioner at the Hospital, or at external meetings. What this means is that they may not always be here if you decide to drop by. We always welcome visits and have no problem with people dropping in, but if you do need something that is time sensitive or if you would like to ensure that you have ample time to meet with them, we do encourage that you call ahead to verify. Because we are a large Parish and are blessed with so many members, it is very helpful if you identify yourself when you call in, briefly indicate the nature of your request, and offer us a time that might work well for you to come by. We will never pry if it is a personal matter, but a brief explanation allows us to better accommodate you and schedule something that meets your needs. For example, if you are hoping to have a personal item blessed, such as a rosary, please explain that so that we know your appointment may only take a few moments and we can easily schedule that for you. In contrast, if you wish to have our Priests provide you with a Pastoral Reference or sign a Godparent Sponsor Form, please allow enough time prior to the due date of its submission and we will book enough time so they can ask you a few questions. So even though you are more than welcome to drop by, please don't be disappointed if our Priests aren't in at that precise moment. Just give us a quick call if you need us and we will be happy to arrange a meeting.
Worth repeating:
Creating Three New Areas for Persons with Disabilities.

Area #1 – The choir seats. Except for the 10:00 Sunday morning Mass, the choir seats go empty. So – for all Masses except for the Sunday 10:00 Mass there are several places available; choir seats have been arranged creating space to easily accommodate walkers. A bonus here is that outside of the Sanctuary, these seats are the most comfortable seats in the church.

Area #2 – The pew immediately in front of the baptismal font. There are places in this pew easily for three persons and perhaps four persons with walkers. The "disability" sign is attached to this pew. Adjacent to the font as well, there is space or two for two persons in wheelchairs.

Area #3 – The last pew on the side of the church opposite the confessional /reconciliation room. This pew has been altered to create more space for walkers. It can accommodate three walkers comfortably. There is a place adjacent also perfect for a wheel chair. The "disability" sign is attached to this pew.

Two further points!

At each Sunday Eucharist, a Minister of the Eucharist will bring Holy Communion to the handicapped areas.

All parishioners are asked to please respect these designated areas as places for persons with disabilities.

The Stewardship Committee's decision is clear that we must respect safety and fire codes. The foyer chairs against the back wall unfortunately, violate the fire code. Our hope is that designating these three new areas for persons with disabilities will be satisfactory. Thanks very much for your cooperation.
Catholic Marriage Tribunal
If you are considering remarriage in the Catholic Church at some point, or hoping to enter a marriage with someone previously married, please speak to a priest, or contact the Diocesan Catholic Marriage Tribunal in St. Catharines at 905-687-8817. Information Pamphlets are available through the parish.
PLEASE READ THIS IMPORTANT NOTICE:
Due to the privacy laws, the hospital does not list our parishioners by address or parish unless you state your religion as ST. KEVIN PARISH when you are admitted. It would help the parish visiting team if when the hospital asks religion – you respond ST. KEVIN'S PARISH. If you or a family member enter a hospital for several days please be sure to call the parish office to let us know if you wish a visit. If you wish the Anointing of the Sick before an operation, either at home or while in the hospital, be sure to inform the parish office. A priest will come as soon as possible to administer the Sacrament of the Anointing of the Sick. We also have a group of lay people from our parish who each week visit or bring communion to Catholic parishioners in the hospital. Please, we need to know that you are there!
An Introduction – What do we mean when we say Catholic Social Teaching?
"Action on behalf of justice and participation in the transformation of the world fully appear to us as a constitutive dimension of the preaching of the Gospel"

– Synod on Justice in the World – 1974 –

Expressions of Catholic Social Teaching

Right to life and defence of the human person

Economic and political decisions must be based on human dignity

The primacy of persons over things and of human labour over capital

Equality of man and woman

Preferential option for the poor

Constitutions must be based on the rights and responsibilities of each
human person and nation

Promote the good of all because we are all responsible for all

Right of government to intervene for common and individual good

The market economy must be governed by justice and oriented to the common good

Common good is attained through cooperation and mutual assistance

Rich nations are called to sacrifice income and power for common good

Live simply so that others may simply live

Development must respect nature and the common good:
human dominion over the Earth is not absolute

Everyone has a right to good water and food, the fruits of God's creation

Riches and freedom create a special obligation

Aid less-developed countries without thought of domination

All nations have equal dignity and right to self-development

Every human person and nation is interdependent

All individuals and nations should share in development

Development is a means to peace

Right to work and the dignity of work

Right of workers to assemble, to unionize, and to a just wage

Workers are part owners of the enterprise in which they invest labour

Resources are not for arms but for the alleviation of human misery

Disarm, simplify lifestyles, and eliminate waste in rich nations

Christian duty calls for participation in public life

Infuse one's culture with a Christian spirit

Accept responsibility for one's share in injustice and for conversion

Sinful structures exist and must be overcome

Social justice is integral to our faith commitment

Challenging injustice is an essential part of evangelization
POP CANS WANTED.
The Niagara Warehouse of Hope would love to have all your empty pop cans. All aluminum cans (no metal cans please) including beer cans are welcome. You can bring them to the ALUMINUM CAN bin on the south side of the parking lot. I would like to thank everyone who have been bringing cans for many years, keep up the good work. The money from the sale of the cans is being used to send goods to the poor countries. If you have any questions, call me, Ben Obdeyn at 905-892-4721.
Funerals and the place for a Eulogy
Many parishioners understand the policy of the parish when it comes to a eulogy and a funeral. We follow the instruction of the Canadian Conference of Bishops and more particularly we adhere to the following policy of the Diocese of St. Catharines established in 1999.

DIRECTIVES FOR EULOGIES AT FUNERAL MASSES:

The Order of Christian Funerals (#27) states "A brief homily based on the readings is always given after the Gospel reading at the funeral liturgy and may also be given after the readings at the vigil service but there is never to be a eulogy."

The fact that a eulogy is not permitted does not mean that there is no reference to the deceased person during the homily. A eulogy is described as "a formal speech of high praise of a person." Those who preach are directed to dwell on God's compassionate love and the paschal mystery as proclaimed in the scripture readings. Reference to the person's life of faith and love is obviously appropriate. It is the "high praise" of a eulogy in the strict sense of the word, praise which has no reference to Christian life, that is out of place in an act of worship.

The diocesan policy suggests the following moments that are appropriate times for a eulogy:

at the Vigil Service
at the cemetery
at the reception which follows the Mass
A Review of Some Parish Policies
Requests: We often receive requests for baptism or marriage, or Pastoral References for teachers, who are not members of St. Kevin's Parish. Examples would be: They might like our church and so want to get married here although they live elsewhere. Or: they were baptized here and so they would like their child to be baptized here although they live elsewhere. Or: I went to Notre Dame College School. The main point here is "they live elsewhere". Now – wherever elsewhere might be, there is a Catholic parish there. Our policy is to minister to the parishioners of St. Kevin's. We have more than 3400 families; there is a lot of ministry work for us to do here. Our focus and attention is first and foremost on our own parishioners.

Parishioners should be registered: And here it is important to remember – that all of our parishioners should be registered in the parish, that is, on our books with names and phone numbers and addresses.

Young Adults: There is a point when the young person must register in our Parish. It does not suffice to say my parents are members of St. Kevin's and I was confirmed at St. Kevin's when that person has been living on his or her own. The young adult should not depend on the faith and loyalty of parents or grandparents but must take ownership of his or her own faith. That means, as well, the young person should be engaged in the financial support of the Parish.

Support of the Church: One of the precepts of the church – parishioners should be generous in supporting the material needs of the church. Today, we do this best by regularly using envelopes to help with the expenses of administering a very large parish such as St. Kevin's.

Needing a Letter of Permission: Hospitality is a wonderful characteristic of St. Kevin's Parish. And we do want to be open and hospitable to folks who are not registered members in the parish. Yet – we must be careful to observe church laws and regulations. We will consider doing a marriage or a baptism of those folks from elsewhere. But – we must ask that the person or persons making this request of us have a "letter of permission" from elsewhere, that is, from the parish in which they are actually living - a letter from the Pastor of that parish giving us permission to do the baptism or marriage. Without such a letter of permission our policy must be to refuse to do such baptisms or marriages.

Weddings: To be married in St. Kevin's, one should be registered in the parish. Please call at least six months in advance to make arrangements. If not a registered member of our parish, we must have a Letter of Permission from the Pastor in which the person(s) is registered. (See above.)

Baptisms: To be baptized in St. Kevin's, one should be registered in the Parish. Please call as early as possible to arrange a baptism. If one is not registered, we must have a Letter of Permission from the Pastor in which the family is registered. (See above.)

Pastoral References for Teachers: Pastoral references for teachers are given for those persons who are registered in St. Kevin's Parish. The Pastoral Reference for teachers testifies that the person practices his or her faith regularly. Sunday Eucharist is the great Christian norm for the practice of the faith. The Pastoral Reference for teachers inquires as to how active the person is in participating in different dimensions of parish or civic life.

Godparents / Christian Witness for Baptism: At baptism, a Roman Catholic sponsor is called a Godparent. All Godparents for Baptism should be practicing Catholics. One of the sponsors at baptism must be a Roman Catholic, 16 years of age and already confirmed. A non-Catholic sponsor is called a "Christian Witness". (This presumes that the non- Catholic is indeed a practicing Christian and baptized in a Christian church). In choosing a Godparent for baptism, parents should keep in mind that a Godparent at baptism should also be the person's sponsor at Confirmation.

Confirmation Sponsors: A Confirmation sponsor must be a practicing Roman Catholic, already confirmed and 16 years of age. We ask the sponsor at Confirmation to have a brief meeting with the Pastor of his/her Parish. Simply inform the Pastor of your desire to act as a Confirmation sponsor at St. Kevin's and kindly ask the Pastor to sign the Sponsor Form. The Sponsor Form itself presents in a clear way the expectations for a Confirmation Sponsor.

Parish Pastoral Practice.
• If someone is seriously sick at home or in the hospital, please call the office. One of the priests will be happy to visit.
• If one is unable to come to Sunday Eucharist over a long period of time, please call the office and arrange for a communion visit on the part of our Eucharist Ministers.
• When spending time in the hospital, please indicate that you are Roman Catholic and a member of St. Kevin's.
REMINDER:
Are You Registered in Our Parish?

Please do not take for granted that you are registered in the parish just because you attend Mass here. If we have no record of your parish membership, it could be quite embarrassing to us, or to you or your family, when someone wishes to make wedding plans, have a baby baptized, or if you have been asked to act as a sponsor for baptism or confirmation. Please fill out a registration form. This form is on the shelf in the book stand in the foyer of the church. When you have completed the form, place in the collection basket or return it to the Parish Office