29th Sunday of Ordinary Time
October 20, 2019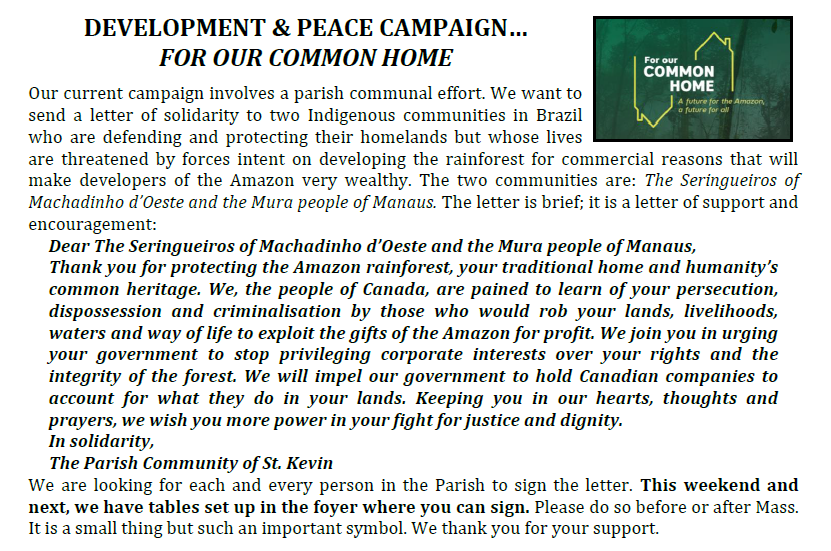 Some Thoughts From St. Kevin Social Justice Committee & Global Citizens…
We can't deny climate change. The arctic melt down and the violent storms we now experience should be seen as the Earth crying out for help. We need to insist that our politicians act urgently to reduce global warming and, in our homes and driving habits, we need to reduce our own carbon footprints as well. God gave humans the ability of abstract thinking that other creatures don't have. It is our responsibility to protect the Earth – 'Our Common Home'. – Linda B.

The earth is what we all have in common. We must make changes that will begin to heal our planet not only as a community but as an individual in our everyday lives. The small choices we make on a daily basis for our environment can bring about big change in our world. – Shannon L.

More people need to get on board the movement to clean up the planet before they can no longer breathe the air, drink the water and see the sun. There are some practices being introduced which demonstrate that more people are getting the message that the environment can either continue to sustain us if we resuscitate it or will eventually kill us if we ignore it. Electric cars and abolishing single use plastics are just two such examples. Much more yet needs to be done. – Larry C.

"The climate crisis has already been solved. We already have the facts and solutions. All we have to do is to wake up and change." – 16-yr-old Swedish Climate Activist, Greta Thunberg

Formed
FORMED is an online resource that provides Catholic content from more than 60 organizations to help parishes, families, and individuals explore their faith anywhere.

To sign-up:
In the box asking you to find your parish or organization – type in
"Parish Community of St. Kevin".

Enter your name and email in the appropriate boxes and then hit next.

You will then be enrolled and can start immediately! ENJOY!
*For subsequent log-ins just visit formed.org and SIGN IN. Once you've entered your email address it will send a link to your email that you will have to click on to begin browsing.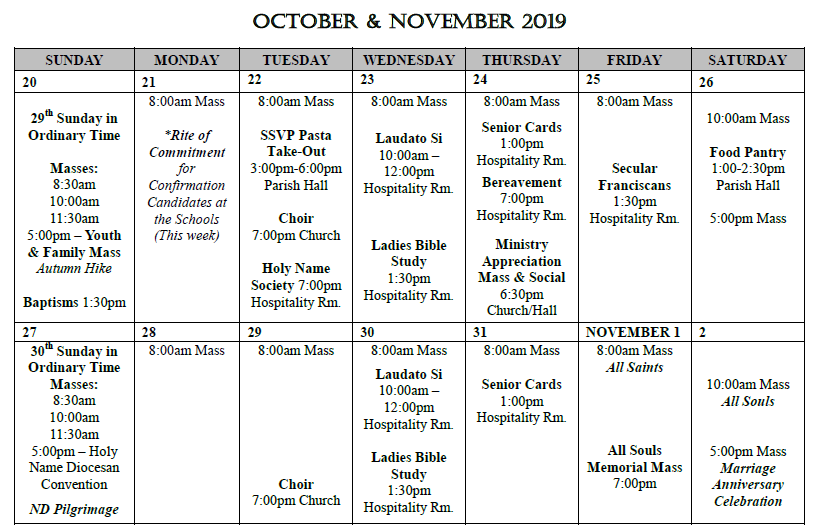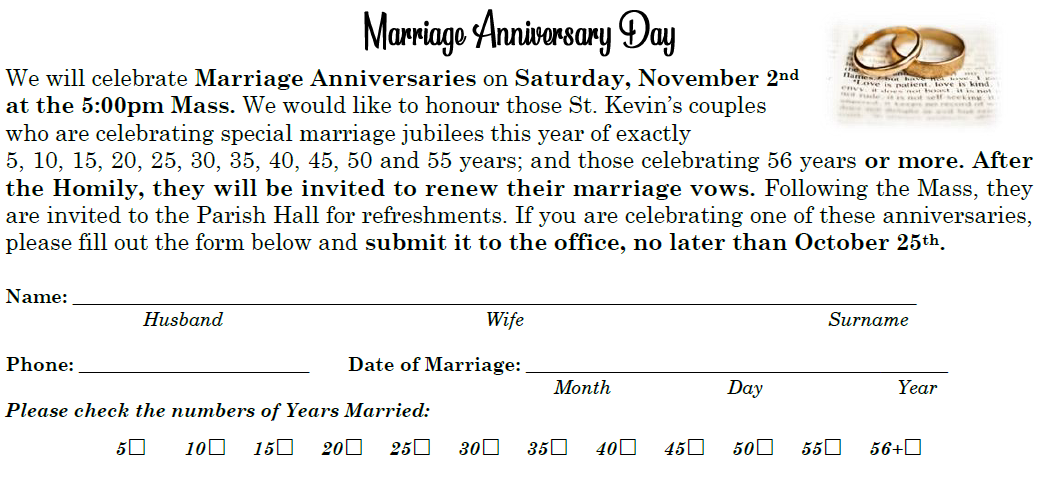 Remember the needs of the Food Pantry!
Week of October 20th:

canned soup & stew;
cereal;
peanut butter & jam

We would not be able to do what we do without your generosity! Thank you to our Parishioners!

*Please remember the St. Vincent de Paul poor box as you leave the Church!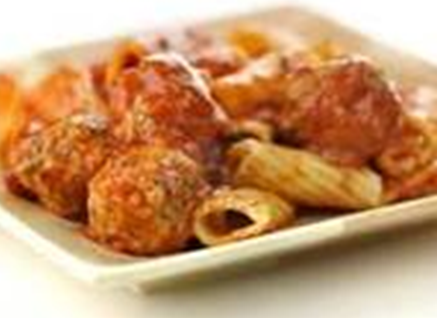 Society of St. Vincent de Paul – Pasta Takeout
Tuesday, October 22nd - 3:00p.m – 6:00p.m.
Pasta, meatballs, salad and roll - $10.00 Dozen Meatballs - $10.00 Container of Sauce - $5.00
Tickets on Sale October 19th & 20th in the foyer
Order by email – ssvpWelland@gmail.com by Sunday, October 20th at 5:00p.m.
November Pasta - Tuesday, November 26th December Pasta - Tuesday, December 17th
Catholic Women's League News:
Memberships are now due - $25.00 per person.

Wednesday, November 6th – Mass for the deceased at 7:00p.m. at Star of the Sea Church in St. Catharines.

Next meeting: Thursday, November 7th at 7:00p.m. in the Hospitality Room. Tickets for our Tri-
Council Christmas Party will be available then. Cost is $25.00 and all ladies welcome!
DIOCESAN ANNIVERSARY MASS & DINNER
Married couples celebrating a 25th, 40th, 50th, or 60th Anniversary in the year 2019 are invited to the Diocesan Anniversary Mass, Monday, November 25th, 2019 at 5:30p.m. at the Cathedral of St. Catherine of Alexandria, St. Catharines. To register and receive a formal invitation from Bishop Gerard Bergie, contact the Parish Office to complete a registration form by October 18th.
Regenerated 2019 Conference
On Saturday, November 23rd join Branches Catholic Ministries at the Scotiabank Convention Centre in Niagara Falls as it hosts Regenerated 2019 with an urgent theme 'You Are Called.' Keynote speakers include: Jackie Francois & Matthew Leonard. Regenerated Youth will run concurrently for ages 12-18. If you are interested in purchasing early-bird tickets or for more information, visit www.branchesoftheword.org or call Branches at 905.685.7000. Registration forms and flyers are also available in the foyer.

Please remember the Poor Box as you leave the Church.
Spanish Mass:
The Spanish Community will now gather to celebrate Mass at 1:00p.m. on the first Sunday of the month at St. Ann Parish in Fenwick. This will begin on Sunday, May 5th at 1:00p.m. and will run from May-November. Confessions in Spanish will be heard before Mass at 12:30pm.
Parking Lot:
In our August bulletin we thanked our Parish community for being so cooperative and supportive with our parking lot project this summer. And we meant it. But, as they say, 'all good things must come to an end'…and NOW it is time for some tough love with our Parishioners. For a long period of time before the lot was repaved and when the lines were very faded, we forgave many of our Parishioners for coming in the wrong way, exiting through the entrance, and for not following the spots/direction provided. But now we must crack down and get serious! We ask that you please, please, please respect all signs and markings. Please only come into the lot through the entry way (from Niagara Street) and only drive out of the lot through the exit (onto Northcote Avenue). Following this direction is paramount! You have no idea how many near collisions we witness each and every day from people racing into the lot the wrong way (turning in from Northcote) and nearly hitting someone leaving that same way. Our Priests have both nearly escaped being hit! As for the spots – the lines are quite prominent and clearly visible now. We have even been told that it looks like an airplane runway! So please follow these and park accordingly in the appropriate direction only. When we kindly ask people to follow these directions the most common response we hear is: "Well I knew that." If so many of you know this then why not do it? Even though our church parking enforcement may only see some of these infractions, there is someone greater than us who sees them all!
Q & A with the Parish Team
Seeing a Priest
Q: Can I drop in anytime to see a Priest?

A: Although our Priests spend a considerable amount of time here in the office on weekdays doing a variety of administrative duties, quite often they are out and about performing various aspects of their ministry. They may be in the Church presiding for a funeral, visiting one of our schools, anointing a Parishioner at the Hospital, or at external meetings. What this means is that they may not always be here if you decide to drop by. We always welcome visits and have no problem with people dropping in, but if you do need something that is time sensitive or if you would like to ensure that you have ample time to meet with them, we do encourage that you call ahead to verify. Because we are a large Parish and are blessed with so many members, it is very helpful if you identify yourself when you call in, briefly indicate the nature of your request, and offer us a time that might work well for you to come by. We will never pry if it is a personal matter, but a brief explanation allows us to better accommodate you and schedule something that meets your needs. For example, if you are hoping to have a personal item blessed, such as a rosary, please explain that so that we know your appointment may only take a few moments and we can easily schedule that for you. In contrast, if you wish to have our Priests provide you with a Pastoral Reference or sign a Godparent Sponsor Form, please allow enough time prior to the due date of its submission and we will book enough time so they can ask you a few questions. So even though you are more than welcome to drop by, please don't be disappointed if our Priests aren't in at that precise moment. Just give us a quick call if you need us and we will be happy to arrange a meeting.
Lost Cheque
Q: I submitted a cheque in the Parish collection on Sunday, April 8th at the 5:00pm Mass but it is now April 13th and I haven't seen it clear my bank account. Did it get lost?

A: There are two reasons why a donation made by cheque may not have cleared your bank account yet. The first case is that you made a donation payable to St. Kevin Church at the Mass time indicated. Here at St. Kevin's our faithful collection counting teams count our weekend collections on Sunday mornings. They will count collections from 5 Masses but two of the collections (those from the Sunday 11:30am Mass and those from the Sunday 5:00pm Mass) are from the weekend before. So, what this means is that a donation made on April 8th at either the 11:30am Mass or the 5:00pm Mass wouldn't be counted until April 15th and then deposited on April 16th. The second case is that you made your donation to a more specific fund (ex. St. Vincent de Paul or our Memorial Fund). For these separate accounts we do not deposit quite as frequently and so there may be a bit of a delay in processing your cheque. We are grateful that so many of our Parishioners are so very generous and diligent in making sure their donations are received by us, but we just wish to ease your minds with the reasons why your donation might not be processed right away.
Hours Church Open
Q: I came by St. Kevin's Church last Wednesday around noon but all of the doors seemed to be locked. Is the Church closed during the day or is there some way I can come in to pray?

A: We're so sorry that you missed us! To put it simply, the Church is open every weekday from before the 8:00a.m. Mass through until 5:00p.m. For morning Mass all of the doors are kept open but from 9:00a.m. – 5:00p.m. (Monday-Friday), which coincides with the Parish Office Hours, only the back entrance by our office is kept open. If you've never used our parking lot and have only opted for street parking, you may not even know about the hidden door around the back! To gain entry to the church, please come right around the back into the parking lot. From there, there is a large glassed in area between the Church itself and the garage of the Rectory. Please enter through the double set of glass doors and that will take you right by our Parish Office and then you are more than welcome to take time in the Church.

If there is a funeral or Mass or some other activity in progress we will try our best to intercept you but we encourage people to come pray and visit the church during the day. And of course if you have any questions please stop by our office for anything you require assistance with.
Baptism and Godparents
Q: My husband and I are looking to have our three month old daughter Baptized but we don't know who to choose as Godparents. Is there anything we need to know when it comes to making those selections?

A: Choosing Godparents for your child is an extremely important decision and it is a responsibility that those who are chosen must take seriously. While it is an honour to be asked to be a Godparent, this role is a significant commitment. We are always glad to explain the necessary criteria that a Godparent must meet and guide you in making that choice. The following sponsor requirements come from Canon Law and are standard across the Catholic Church - not just mandated by our Parish.
Godparents should be a model of faith to your child and nurture their spiritual obligations.

You may choose one or two Godparents for your child, and we entrust that you make this decision wisely. A maximum of two names will be included in our Baptism Register and on the Baptism certificate.

A Godparent must be a Roman Catholic over the age of 16 who has been Baptized and Confirmed in the Catholic faith.

A parent of the child being Baptized cannot be a Godparent, but a grandparent can fulfill this role.

In the event that you select two Godparents, you must choose one Godmother and one Godfather (ex. not two Godfathers or not two Godmothers).

If you only wish to have one Godparent, then either a Godmother (Catholic) or Godfather (Catholic) is fine.

In the event that you have selected one Godparent (Catholic) and have a second person in mind who is not Catholic – they may be eligible to be a Christian Witness. This person must be Baptized in another Christian faith (ex. Anglican, Lutheran, etc.). Someone who is not Baptized in any faith is not eligible to be a Christian Witness or a Godparent.

Having one or two Christian Witnesses and no Catholic Godparent is not permissible.

Here at St. Kevin's we have the parents who request a Baptism for their child come in and meet with our Priests to prepare for the Baptism. At that meeting we provide forms that the Godparent(s) that have been selected should complete. In addition, they must have it signed by a Priest of the Church that they are affiliated with. From there, it is returned to our office and kept on file. Many other churches follow a similar procedure and often ask Godparents to provide certain documentation or complete a form to acknowledge their commitment and demonstrate the blessing given by their own Priest.
Marriage Blessed in the Church
Q: My husband and I are both Catholic and are parishioners at St. Kevin's but we got married four years ago in a civil ceremony at a winery in Niagara-on-the-Lake. We have now come to realize how important it is to have our marriage blessed in the church. How do we go about this?


A: If you are in a first marriage (a civil marriage) your civil union may be blessed by the church or what is called convalidated. This is not a complicated process. These days, increasingly, couples choose to marry in places other than the church: justice of the peace, city hall, parks, resorts, hotels, etc. and they do so for various reasons. There then comes a moment, often a few years later, when the couple realizes that their marriage union can receive a special blessing by the church. The benefits of this blessing are enormous: peace of heart, oneness with the church, reception of the Sacrament of Marriage and God's special blessing upon the marriage.(If this is a second marriage for either party then the necessary divorce and/or annulment proceedings and paperwork must be complete and permission granted from the Diocese).

In order to make arrangements the couple needs to call the Parish office to request the blessing and determine a date and time. Both parties must then meet with the Priest to complete the necessary paperwork and interviews, as well as plan the service. Additionally, the couple must provide the following documents: a copy of their marriage licence and marriage certificate; a copy of each partner's birth certificate; and recently issued copies of baptism certificates for both partners (can be obtained from the church of baptism). [Note – if one partner is not Catholic then a simple dispensation can be obtained through the Diocese.]

As for the liturgical service (Convalidation) itself, it can be very brief (10-15 minutes) or it can be more elaborate (similar to a wedding with music, etc.). The essential parts include: the couple states their intention to have their marriage blessed in the Catholic church; the couple says their vows to each other and the rings blessed and placed on each other's finger; and two witnesses are present to witness to this church marriage. These essentials will take place in the context of prayer for the couple, a listening to the Word of God on the meaning of marriage and a marriage blessing at the end of the service.
Q & A with the Parish Team
Q: How do Mass Intentions work at St. Kevin's and how do I arrange one?

*Mass Intention / Mass Offering / Having a Mass 'Said' – these terms are often used interchangeably

A: This is such a good topic to cover and there is so much to discuss! A Mass Intention here at St. Kevin's is either for someone who has passed away or for a special intention. An intention for someone who has passed away means that the person's name will be mentioned by the Priest during the Eucharistic Prayer. Mass intentions (for both deceased and special intentions) are said Monday-Friday at our 8:00am Masses and Saturday evenings at our 5:00pm Masses. We do not have Mass Intentions on Sundays. (If you have heard names mentioned at our Sunday 10:00am Mass this is because the Parish offers this Mass for those who have passed away during the previous week and whose funeral was connected to St. Kevin Parish).

Having a Mass 'said' in memory of someone significant in your life is a wonderful way to honour their memory. We have a slightly different process for booking a Mass depending on how long a person has been deceased. If they have passed away within the last year then we can book one intention per day at any of our weekday Masses (8:00am Masses) and our Saturday evening 5:00pm Mass. We allow so many days for these intentions because, unfortunately, we have so many Parishioners pass away each year and so many loved ones wanting to have

a Mass offered for them. If your loved one has been deceased for more than one year then we can either book up to three of these intentions on Monday morning at our 8:00 Mass or on Saturday evening at our 5:00 Mass. We tend to refer to those Masses as anniversaries. Often they are booked close to the person's birthday, date of passing, or other important days in their lives. So – if your loved one has been deceased longer than a year then we restrict those Masses to either Monday at 8:00am or Saturday at 5:00pm. As a Diocesan rule – we can only have collective (multiple) intentions on two days per week. The other days are singular.
Special Intention Masses are offered for those who are still with us but whom we want to pray for. For example, these Masses may be offered for someone who is in the hospital, someone who may be going through a difficult family situation or even someone who is having a significant birthday/wedding anniversary. For a number of reasons, including privacy, we only publish/say 'Special Intention.' We do not mention the name or reason for the Mass.
We encourage our Parishioners to visit our Parish Office, during office hours, to arrange for Mass Intentions. This way we can check if certain dates are available for you, we can officially book your requests, and we can provide a Mass Card (if you wish to notify a friend or family member of the upcoming Mass Intention). Although some churches publish who requested which Masses, we do not. Lastly, we ask for a donation of $10 for a Mass Intention and $1 for a Mass Card.
Q: I would like to book Mass Intentions for next year (2020). When can I do that?
A: We hear this question a lot. Often our Parishioners innocently assume that the best time to come into the office to book Mass Intentions for a new year is to come in at the end of the previous year (ex. many came in late December of 2018 to book their Masses for 2019). Although well intentioned, late December is not a very good time! As you can imagine, we are extremely

busy in the Parish Office in December with the Christmas season and with year-end administrative work. Given that we have our Mass book nearly a year prior, you can come well in advance! If you would like to book Masses for 2020 you can do so at any time but we encourage you to come by the office during our office hours over the next few weeks. By visiting us in the fall, it will ensure that you book early and avoid the Christmas/New Year rush! Thank you!
Worth repeating:
Creating Three New Areas for Persons with Disabilities.

Area #1 – The choir seats. Except for the 10:00 Sunday morning Mass, the choir seats go empty. So – for all Masses except for the Sunday 10:00 Mass there are several places available; choir seats have been arranged creating space to easily accommodate walkers. A bonus here is that outside of the Sanctuary, these seats are the most comfortable seats in the church.

Area #2 – The pew immediately in front of the baptismal font. There are places in this pew easily for three persons and perhaps four persons with walkers. The "disability" sign is attached to this pew. Adjacent to the font as well, there is space or two for two persons in wheelchairs.

Area #3 – The last pew on the side of the church opposite the confessional /reconciliation room. This pew has been altered to create more space for walkers. It can accommodate three walkers comfortably. There is a place adjacent also perfect for a wheel chair. The "disability" sign is attached to this pew.

Two further points!

At each Sunday Eucharist, a Minister of the Eucharist will bring Holy Communion to the handicapped areas.

All parishioners are asked to please respect these designated areas as places for persons with disabilities.

The Stewardship Committee's decision is clear that we must respect safety and fire codes. The foyer chairs against the back wall unfortunately, violate the fire code. Our hope is that designating these three new areas for persons with disabilities will be satisfactory. Thanks very much for your cooperation.
Catholic Marriage Tribunal
If you are considering remarriage in the Catholic Church at some point, or hoping to enter a marriage with someone previously married, please speak to a priest, or contact the Diocesan Catholic Marriage Tribunal in St. Catharines at 905-687-8817. Information Pamphlets are available through the parish.
PLEASE READ THIS IMPORTANT NOTICE:
Due to the privacy laws, the hospital does not list our parishioners by address or parish unless you state your religion as ST. KEVIN PARISH when you are admitted. It would help the parish visiting team if when the hospital asks religion – you respond ST. KEVIN'S PARISH. If you or a family member enter a hospital for several days please be sure to call the parish office to let us know if you wish a visit. If you wish the Anointing of the Sick before an operation, either at home or while in the hospital, be sure to inform the parish office. A priest will come as soon as possible to administer the Sacrament of the Anointing of the Sick. We also have a group of lay people from our parish who each week visit or bring communion to Catholic parishioners in the hospital. Please, we need to know that you are there!
An Introduction – What do we mean when we say Catholic Social Teaching?
"Action on behalf of justice and participation in the transformation of the world fully appear to us as a constitutive dimension of the preaching of the Gospel"

– Synod on Justice in the World – 1974 –

Expressions of Catholic Social Teaching

Right to life and defence of the human person

Economic and political decisions must be based on human dignity

The primacy of persons over things and of human labour over capital

Equality of man and woman

Preferential option for the poor

Constitutions must be based on the rights and responsibilities of each
human person and nation

Promote the good of all because we are all responsible for all

Right of government to intervene for common and individual good

The market economy must be governed by justice and oriented to the common good

Common good is attained through cooperation and mutual assistance

Rich nations are called to sacrifice income and power for common good

Live simply so that others may simply live

Development must respect nature and the common good:
human dominion over the Earth is not absolute

Everyone has a right to good water and food, the fruits of God's creation

Riches and freedom create a special obligation

Aid less-developed countries without thought of domination

All nations have equal dignity and right to self-development

Every human person and nation is interdependent

All individuals and nations should share in development

Development is a means to peace

Right to work and the dignity of work

Right of workers to assemble, to unionize, and to a just wage

Workers are part owners of the enterprise in which they invest labour

Resources are not for arms but for the alleviation of human misery

Disarm, simplify lifestyles, and eliminate waste in rich nations

Christian duty calls for participation in public life

Infuse one's culture with a Christian spirit

Accept responsibility for one's share in injustice and for conversion

Sinful structures exist and must be overcome

Social justice is integral to our faith commitment

Challenging injustice is an essential part of evangelization
POP CANS WANTED.
The Niagara Warehouse of Hope would love to have all your empty pop cans. All aluminum cans (no metal cans please) including beer cans are welcome. You can bring them to the ALUMINUM CAN bin on the south side of the parking lot. I would like to thank everyone who have been bringing cans for many years, keep up the good work. The money from the sale of the cans is being used to send goods to the poor countries. If you have any questions, call me, Ben Obdeyn at 905-892-4721.
Funerals and the place for a Eulogy
Many parishioners understand the policy of the parish when it comes to a eulogy and a funeral. We follow the instruction of the Canadian Conference of Bishops and more particularly we adhere to the following policy of the Diocese of St. Catharines established in 1999.

DIRECTIVES FOR EULOGIES AT FUNERAL MASSES:

The Order of Christian Funerals (#27) states "A brief homily based on the readings is always given after the Gospel reading at the funeral liturgy and may also be given after the readings at the vigil service but there is never to be a eulogy."

The fact that a eulogy is not permitted does not mean that there is no reference to the deceased person during the homily. A eulogy is described as "a formal speech of high praise of a person." Those who preach are directed to dwell on God's compassionate love and the paschal mystery as proclaimed in the scripture readings. Reference to the person's life of faith and love is obviously appropriate. It is the "high praise" of a eulogy in the strict sense of the word, praise which has no reference to Christian life, that is out of place in an act of worship.

The diocesan policy suggests the following moments that are appropriate times for a eulogy:

at the Vigil Service
at the cemetery
at the reception which follows the Mass
A Review of Some Parish Policies
Requests: We often receive requests for baptism or marriage, or Pastoral References for teachers, who are not members of St. Kevin's Parish. Examples would be: They might like our church and so want to get married here although they live elsewhere. Or: they were baptized here and so they would like their child to be baptized here although they live elsewhere. Or: I went to Notre Dame College School. The main point here is "they live elsewhere". Now – wherever elsewhere might be, there is a Catholic parish there. Our policy is to minister to the parishioners of St. Kevin's. We have more than 3400 families; there is a lot of ministry work for us to do here. Our focus and attention is first and foremost on our own parishioners.

Parishioners should be registered: And here it is important to remember – that all of our parishioners should be registered in the parish, that is, on our books with names and phone numbers and addresses.

Young Adults: There is a point when the young person must register in our Parish. It does not suffice to say my parents are members of St. Kevin's and I was confirmed at St. Kevin's when that person has been living on his or her own. The young adult should not depend on the faith and loyalty of parents or grandparents but must take ownership of his or her own faith. That means, as well, the young person should be engaged in the financial support of the Parish.

Support of the Church: One of the precepts of the church – parishioners should be generous in supporting the material needs of the church. Today, we do this best by regularly using envelopes to help with the expenses of administering a very large parish such as St. Kevin's.

Needing a Letter of Permission: Hospitality is a wonderful characteristic of St. Kevin's Parish. And we do want to be open and hospitable to folks who are not registered members in the parish. Yet – we must be careful to observe church laws and regulations. We will consider doing a marriage or a baptism of those folks from elsewhere. But – we must ask that the person or persons making this request of us have a "letter of permission" from elsewhere, that is, from the parish in which they are actually living - a letter from the Pastor of that parish giving us permission to do the baptism or marriage. Without such a letter of permission our policy must be to refuse to do such baptisms or marriages.

Weddings: To be married in St. Kevin's, one should be registered in the parish. Please call at least six months in advance to make arrangements. If not a registered member of our parish, we must have a Letter of Permission from the Pastor in which the person(s) is registered. (See above.)

Baptisms: To be baptized in St. Kevin's, one should be registered in the Parish. Please call as early as possible to arrange a baptism. If one is not registered, we must have a Letter of Permission from the Pastor in which the family is registered. (See above.)

Pastoral References for Teachers: Pastoral references for teachers are given for those persons who are registered in St. Kevin's Parish. The Pastoral Reference for teachers testifies that the person practices his or her faith regularly. Sunday Eucharist is the great Christian norm for the practice of the faith. The Pastoral Reference for teachers inquires as to how active the person is in participating in different dimensions of parish or civic life.

Godparents / Christian Witness for Baptism: At baptism, a Roman Catholic sponsor is called a Godparent. All Godparents for Baptism should be practicing Catholics. One of the sponsors at baptism must be a Roman Catholic, 16 years of age and already confirmed. A non-Catholic sponsor is called a "Christian Witness". (This presumes that the non- Catholic is indeed a practicing Christian and baptized in a Christian church). In choosing a Godparent for baptism, parents should keep in mind that a Godparent at baptism should also be the person's sponsor at Confirmation.

Confirmation Sponsors: A Confirmation sponsor must be a practicing Roman Catholic, already confirmed and 16 years of age. We ask the sponsor at Confirmation to have a brief meeting with the Pastor of his/her Parish. Simply inform the Pastor of your desire to act as a Confirmation sponsor at St. Kevin's and kindly ask the Pastor to sign the Sponsor Form. The Sponsor Form itself presents in a clear way the expectations for a Confirmation Sponsor.

Parish Pastoral Practice.
• If someone is seriously sick at home or in the hospital, please call the office. One of the priests will be happy to visit.
• If one is unable to come to Sunday Eucharist over a long period of time, please call the office and arrange for a communion visit on the part of our Eucharist Ministers.
• When spending time in the hospital, please indicate that you are Roman Catholic and a member of St. Kevin's.
REMINDER:
Are You Registered in Our Parish?

Please do not take for granted that you are registered in the parish just because you attend Mass here. If we have no record of your parish membership, it could be quite embarrassing to us, or to you or your family, when someone wishes to make wedding plans, have a baby baptized, or if you have been asked to act as a sponsor for baptism or confirmation. Please fill out a registration form. This form is on the shelf in the book stand in the foyer of the church. When you have completed the form, place in the collection basket or return it to the Parish Office