July 2018

From Father Vijai:
Holy Cross Fathers Chapter:

As I mentioned in our last bulletin, the Holy Cross Fathers had our annual meeting at Mount Carmel the very last week of June. Every third year our meeting consists of an official Chapter with many serious discussions regarding the future of the Holy Cross Fathers here in Canada, and that was the case this year. As many of you were aware, at our Chapter back in 2015 I was selected to be the Superior of the Holy Cross Fathers for the Region of English Canada. It was quite an honour to be given this opportunity. With the privilege of this appointment came quite a bit of responsibility. This role meant that I was the leader of 23 Holy Cross Priests & 1 Holy Cross Brother throughout Ontario (Burlington, Toronto, Welland), New Brunswick, Montreal, and Indiana. In addition, two of our Confreres do Missionary work in Dominica and Haiti during certain parts of the year. I was very fortunate to have the support of all my Brothers in Holy Cross, as well as the Parish Team at St. Kevin's. I couldn't have done all of the administrative work without them! My three years as Superior flew by – but also entailed a lot of flying! I attended meetings with other Holy Cross Regions/Vicariates/Provinces/members of the Congregation in Rome (where our General Administration is situated), in Quebec, and in various parts of the United States. While a lot got accomplished and we continue to work on restructuring our Congregation in the years to come, it was a great deal of work in addition to my role as Pastor of St. Kevin.
Now at this most recent Chapter, I have been selected to be the Superior of our Region for a second three-year term. Again, this is quite an honour and I am grateful that the Congregation and my Confreres have the confidence in me to lead them once again. Having said that, I am well aware that the next three years will also fly by and they will present me with many new challenges. Having the support of my Brothers, my Parish Team, and from all of those whom I minister to gives me the strength and the reassurance to carry on with my calling and what has been asked of me. I thank you all.

Concrete Sidewalk Replacement, Parking Lot Repaving & Line Painting:

After much deliberation and research we are proceeding this summer with replacing the sidewalks at our Parish (those that are not the responsibility of the city), repaving the parking lot, and having the parking lot lines repainted. We had such a positive experience with the Niagara Street Construction last summer and learned a great deal – we now have our hard hats on and are ready for our parking lot project! As you can see in the calendar included in this bulletin, we have allocated two weeks to accomplish this project, with the exception of the weekends. All of our plans are weather permitting. So please pray for sun! The concrete sidewalks will be dug up and then poured first, with the repaving and painting taking place second. The project might take less time than what we have allotted but we are trying to be extra cautious. We ask that all of our Parishioners be mindful of signage and blocked off areas. The weekends should be unaffected so parking as usual can take place at weekend Masses. We ask that those attending any weekday Masses, those visiting the Parish Office, and anyone coming by the church for whatever reason during the week to please park on the street and follow the signs that are clearly marked. We ask for your complete cooperation with this and we are excited for when it is complete!

Thank You Linda:

I wish to share with our Parishioners that Linda Bruch, one of our very gifted organists, has decided to no longer participate in our music ministry and will now be pursuing other interests. We are certain that in whatever she chooses she will bless those around her with her musical talent. On behalf of the Parish and our Parish Team we wish Linda the very best and we thank her for her many years of commitment and dedication to our music ministry here at St. Kevin's.

Thank You Karen & John:

We want to extend a special thanks to Karen and John Bedard who have tended so diligently to our Church grounds and have cared for the array of flowers around the property. They always do a wonderful job of both planting and watering the flowers, and they choose such beautiful colours and varieties. The care for our grounds enhances the beauty of our church, and certainly accentuates the beauty of our earth at this gorgeous and long-awaited time of year. They also ensure that our birds have a fresh watering hole at the local bird bath. We are greatly appreciative.

Mission Preacher:

As we also mentioned in the last bulletin before summer break, we will receive our Mission Preacher for 2018 on the weekend of July 7/8. We welcome Fr. Santhosh George OSST to preach at all of our Masses and I ask our Parishioners to be as welcoming and generous as they always are. Envelopes will be available in the pews on that weekend and can be submitted the following week in the regular collection.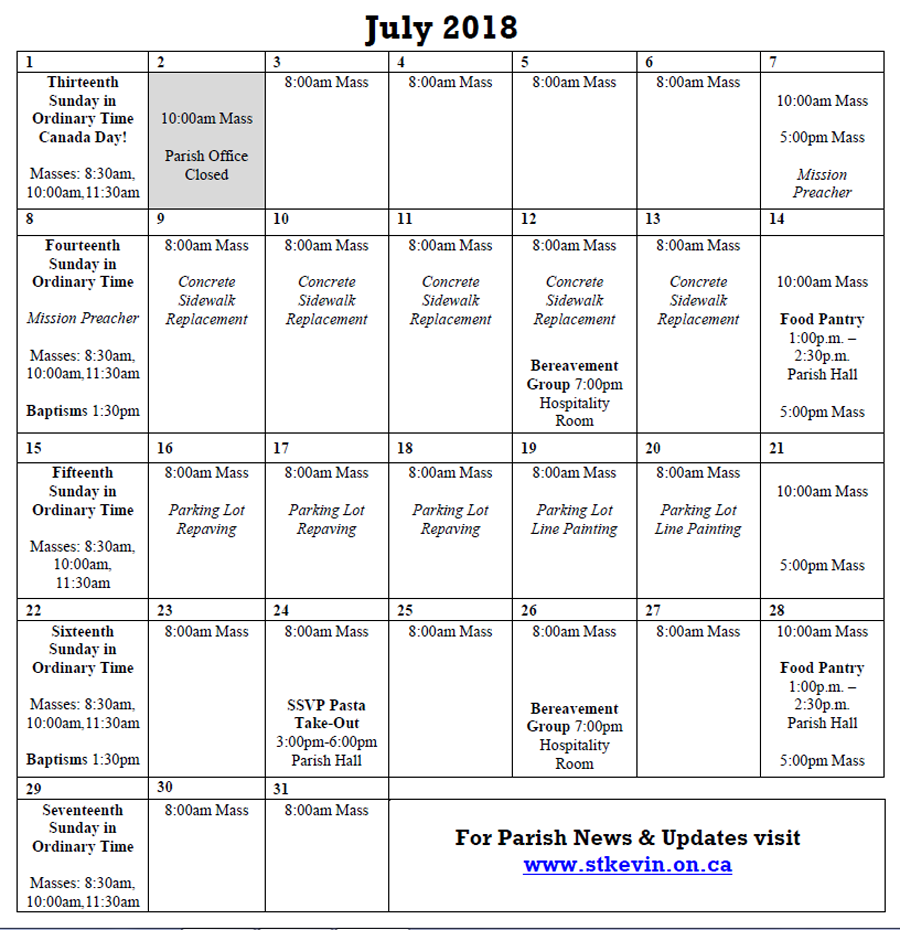 Social Justice Scholarship Recipients
Four students from four Niagara secondary schools are recipients of the 2018 St. Kevin Social Justice Scholarship: Zoe Bertrand (Blessed Trinity Secondary School); Ian Hauber (École Secondaire Catholique Jean Vanier); Jane Jarrett (Notre Dame College School); & Julia Labricciosa (E.L. Crossley Secondary School). Each scholarship is in the amount of $1,000. The fundraiser for the award is Soup's On!, the popular soup luncheon held annually at St. Kevin Parish hall the last Friday of January. We wish our recipients and all who applied on-going success as they pursue post-secondary education.
Job Opportunity:
Weekend cook needed for Holy Cross Retirement Community Residence in Welland


of approximately 8 residents.
Hours to begin: Saturdays 3:00p.m. – 6:30p.m. (with potential for other days).
Please email inquiries and resume to the Administrator – John Bedard holycrossresidence@live.ca
No phone calls please. Email only.
Cooking experience, maturity, and confidentiality are essential. Wage to be determined.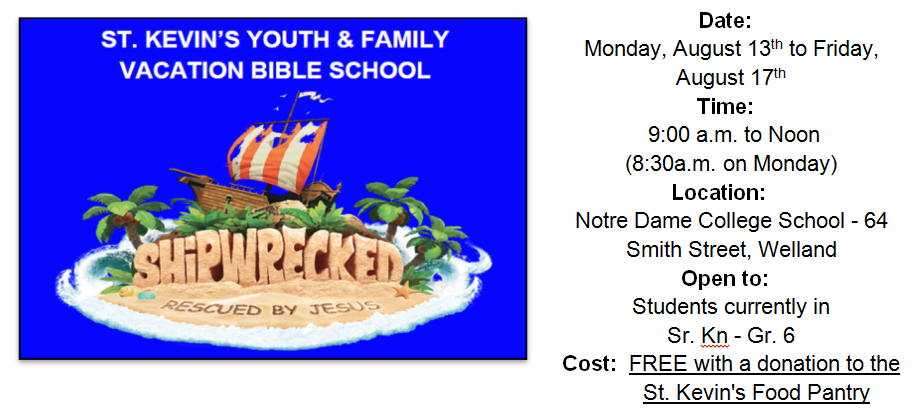 Registration Forms are online at: www.stkevin.on.ca under the Youth & Family Tab.
Forms can be submitted to the Parish Office, or scanned and emailed to stkevinsyouthministry1@gmail.com




Mass Schedules and Intentions for July
will be posted on the bulletin board in the foyer of the Church.
Please remember the Poor Box as you leave the Church.
Q & A with the Parish Team
Seeing a Priest
Q: Can I drop in anytime to see a Priest?

A: Although our Priests spend a considerable amount of time here in the office on weekdays doing a variety of administrative duties, quite often they are out and about performing various aspects of their ministry. They may be in the Church presiding for a funeral, visiting one of our schools, anointing a Parishioner at the Hospital, or at external meetings. What this means is that they may not always be here if you decide to drop by. We always welcome visits and have no problem with people dropping in, but if you do need something that is time sensitive or if you would like to ensure that you have ample time to meet with them, we do encourage that you call ahead to verify. Because we are a large Parish and are blessed with so many members, it is very helpful if you identify yourself when you call in, briefly indicate the nature of your request, and offer us a time that might work well for you to come by. We will never pry if it is a personal matter, but a brief explanation allows us to better accommodate you and schedule something that meets your needs. For example, if you are hoping to have a personal item blessed, such as a rosary, please explain that so that we know your appointment may only take a few moments and we can easily schedule that for you. In contrast, if you wish to have our Priests provide you with a Pastoral Reference or sign a Godparent Sponsor Form, please allow enough time prior to the due date of its submission and we will book enough time so they can ask you a few questions. So even though you are more than welcome to drop by, please don't be disappointed if our Priests aren't in at that precise moment. Just give us a quick call if you need us and we will be happy to arrange a meeting.
Lost Cheque
Q: I submitted a cheque in the Parish collection on Sunday, April 8th at the 5:00pm Mass but it is now April 13th and I haven't seen it clear my bank account. Did it get lost?

A: There are two reasons why a donation made by cheque may not have cleared your bank account yet. The first case is that you made a donation payable to St. Kevin Church at the Mass time indicated. Here at St. Kevin's our faithful collection counting teams count our weekend collections on Sunday mornings. They will count collections from 5 Masses but two of the collections (those from the Sunday 11:30am Mass and those from the Sunday 5:00pm Mass) are from the weekend before. So, what this means is that a donation made on April 8th at either the 11:30am Mass or the 5:00pm Mass wouldn't be counted until April 15th and then deposited on April 16th. The second case is that you made your donation to a more specific fund (ex. St. Vincent de Paul or our Memorial Fund). For these separate accounts we do not deposit quite as frequently and so there may be a bit of a delay in processing your cheque. We are grateful that so many of our Parishioners are so very generous and diligent in making sure their donations are received by us, but we just wish to ease your minds with the reasons why your donation might not be processed right away.
Hours Church Open
Q: I came by St. Kevin's Church last Wednesday around noon but all of the doors seemed to be locked. Is the Church closed during the day or is there some way I can come in to pray?

A: We're so sorry that you missed us! To put it simply, the Church is open every weekday from before the 8:00a.m. Mass through until 5:00p.m. For morning Mass all of the doors are kept open but from 9:00a.m. – 5:00p.m. (Monday-Friday), which coincides with the Parish Office Hours, only the back entrance by our office is kept open. If you've never used our parking lot and have only opted for street parking, you may not even know about the hidden door around the back! To gain entry to the church, please come right around the back into the parking lot. From there, there is a large glassed in area between the Church itself and the garage of the Rectory. Please enter through the double set of glass doors and that will take you right by our Parish Office and then you are more than welcome to take time in the Church.

If there is a funeral or Mass or some other activity in progress we will try our best to intercept you but we encourage people to come pray and visit the church during the day. And of course if you have any questions please stop by our office for anything you require assistance with.
Baptism and Godparents
Q: My husband and I are looking to have our three month old daughter Baptized but we don't know who to choose as Godparents. Is there anything we need to know when it comes to making those selections?

A: Choosing Godparents for your child is an extremely important decision and it is a responsibility that those who are chosen must take seriously. While it is an honour to be asked to be a Godparent, this role is a significant commitment. We are always glad to explain the necessary criteria that a Godparent must meet and guide you in making that choice. The following sponsor requirements come from Canon Law and are standard across the Catholic Church - not just mandated by our Parish.
Godparents should be a model of faith to your child and nurture their spiritual obligations.

You may choose one or two Godparents for your child, and we entrust that you make this decision wisely. A maximum of two names will be included in our Baptism Register and on the Baptism certificate.

A Godparent must be a Roman Catholic over the age of 16 who has been Baptized and Confirmed in the Catholic faith.

A parent of the child being Baptized cannot be a Godparent, but a grandparent can fulfill this role.

In the event that you select two Godparents, you must choose one Godmother and one Godfather (ex. not two Godfathers or not two Godmothers).

If you only wish to have one Godparent, then either a Godmother (Catholic) or Godfather (Catholic) is fine.

In the event that you have selected one Godparent (Catholic) and have a second person in mind who is not Catholic – they may be eligible to be a Christian Witness. This person must be Baptized in another Christian faith (ex. Anglican, Lutheran, etc.). Someone who is not Baptized in any faith is not eligible to be a Christian Witness or a Godparent.

Having one or two Christian Witnesses and no Catholic Godparent is not permissible.

Here at St. Kevin's we have the parents who request a Baptism for their child come in and meet with our Priests to prepare for the Baptism. At that meeting we provide forms that the Godparent(s) that have been selected should complete. In addition, they must have it signed by a Priest of the Church that they are affiliated with. From there, it is returned to our office and kept on file. Many other churches follow a similar procedure and often ask Godparents to provide certain documentation or complete a form to acknowledge their commitment and demonstrate the blessing given by their own Priest.
Worth repeating:
Creating Three New Areas for Persons with Disabilities.

Area #1 – The choir seats. Except for the 10:00 Sunday morning Mass, the choir seats go empty. So – for all Masses except for the Sunday 10:00 Mass there are several places available; choir seats have been arranged creating space to easily accommodate walkers. A bonus here is that outside of the Sanctuary, these seats are the most comfortable seats in the church.

Area #2 – The pew immediately in front of the baptismal font. There are places in this pew easily for three persons and perhaps four persons with walkers. The "disability" sign is attached to this pew. Adjacent to the font as well, there is space or two for two persons in wheelchairs.

Area #3 – The last pew on the side of the church opposite the confessional /reconciliation room. This pew has been altered to create more space for walkers. It can accommodate three walkers comfortably. There is a place adjacent also perfect for a wheel chair. The "disability" sign is attached to this pew.

Two further points!

At each Sunday Eucharist, a Minister of the Eucharist will bring Holy Communion to the handicapped areas.

All parishioners are asked to please respect these designated areas as places for persons with disabilities.

The Stewardship Committee's decision is clear that we must respect safety and fire codes. The foyer chairs against the back wall unfortunately, violate the fire code. Our hope is that designating these three new areas for persons with disabilities will be satisfactory. Thanks very much for your cooperation.
Catholic Marriage Tribunal
If you are considering remarriage in the Catholic Church at some point, or hoping to enter a marriage with someone previously married, please speak to a priest, or contact the Diocesan Catholic Marriage Tribunal in St. Catharines at 905-687-8817. Information Pamphlets are available through the parish.
PLEASE READ THIS IMPORTANT NOTICE:
Due to the privacy laws, the hospital does not list our parishioners by address or parish unless you state your religion as ST. KEVIN PARISH when you are admitted. It would help the parish visiting team if when the hospital asks religion – you respond ST. KEVIN'S PARISH. If you or a family member enter a hospital for several days please be sure to call the parish office to let us know if you wish a visit. If you wish the Anointing of the Sick before an operation, either at home or while in the hospital, be sure to inform the parish office. A priest will come as soon as possible to administer the Sacrament of the Anointing of the Sick. We also have a group of lay people from our parish who each week visit or bring communion to Catholic parishioners in the hospital. Please, we need to know that you are there!
An Introduction – What do we mean when we say Catholic Social Teaching?
"Action on behalf of justice and participation in the transformation of the world fully appear to us as a constitutive dimension of the preaching of the Gospel"

– Synod on Justice in the World – 1974 –

Expressions of Catholic Social Teaching

Right to life and defence of the human person

Economic and political decisions must be based on human dignity

The primacy of persons over things and of human labour over capital

Equality of man and woman

Preferential option for the poor

Constitutions must be based on the rights and responsibilities of each
human person and nation

Promote the good of all because we are all responsible for all

Right of government to intervene for common and individual good

The market economy must be governed by justice and oriented to the common good

Common good is attained through cooperation and mutual assistance

Rich nations are called to sacrifice income and power for common good

Live simply so that others may simply live

Development must respect nature and the common good:
human dominion over the Earth is not absolute

Everyone has a right to good water and food, the fruits of God's creation

Riches and freedom create a special obligation

Aid less-developed countries without thought of domination

All nations have equal dignity and right to self-development

Every human person and nation is interdependent

All individuals and nations should share in development

Development is a means to peace

Right to work and the dignity of work

Right of workers to assemble, to unionize, and to a just wage

Workers are part owners of the enterprise in which they invest labour

Resources are not for arms but for the alleviation of human misery

Disarm, simplify lifestyles, and eliminate waste in rich nations

Christian duty calls for participation in public life

Infuse one's culture with a Christian spirit

Accept responsibility for one's share in injustice and for conversion

Sinful structures exist and must be overcome

Social justice is integral to our faith commitment

Challenging injustice is an essential part of evangelization
POP CANS WANTED.
The Niagara Warehouse of Hope would love to have all your empty pop cans. All aluminum cans (no metal cans please) including beer cans are welcome. You can bring them to the ALUMINUM CAN bin on the south side of the parking lot. I would like to thank everyone who have been bringing cans for many years, keep up the good work. The money from the sale of the cans is being used to send goods to the poor countries. If you have any questions, call me, Ben Obdeyn at 905-892-4721.
Funerals and the place for a Eulogy
Many parishioners understand the policy of the parish when it comes to a eulogy and a funeral. We follow the instruction of the Canadian Conference of Bishops and more particularly we adhere to the following policy of the Diocese of St. Catharines established in 1999.

DIRECTIVES FOR EULOGIES AT FUNERAL MASSES:

The Order of Christian Funerals (#27) states "A brief homily based on the readings is always given after the Gospel reading at the funeral liturgy and may also be given after the readings at the vigil service but there is never to be a eulogy."

The fact that a eulogy is not permitted does not mean that there is no reference to the deceased person during the homily. A eulogy is described as "a formal speech of high praise of a person." Those who preach are directed to dwell on God's compassionate love and the paschal mystery as proclaimed in the scripture readings. Reference to the person's life of faith and love is obviously appropriate. It is the "high praise" of a eulogy in the strict sense of the word, praise which has no reference to Christian life, that is out of place in an act of worship.

The diocesan policy suggests the following moments that are appropriate times for a eulogy:

at the Vigil Service
at the cemetery
at the reception which follows the Mass
A Review of Some Parish Policies
Requests: We often receive requests for baptism or marriage, or Pastoral References for teachers, who are not members of St. Kevin's Parish. Examples would be: They might like our church and so want to get married here although they live elsewhere. Or: they were baptized here and so they would like their child to be baptized here although they live elsewhere. Or: I went to Notre Dame College School. The main point here is "they live elsewhere". Now – wherever elsewhere might be, there is a Catholic parish there. Our policy is to minister to the parishioners of St. Kevin's. We have more than 3400 families; there is a lot of ministry work for us to do here. Our focus and attention is first and foremost on our own parishioners.

Parishioners should be registered: And here it is important to remember – that all of our parishioners should be registered in the parish, that is, on our books with names and phone numbers and addresses.

Young Adults: There is a point when the young person must register in our Parish. It does not suffice to say my parents are members of St. Kevin's and I was confirmed at St. Kevin's when that person has been living on his or her own. The young adult should not depend on the faith and loyalty of parents or grandparents but must take ownership of his or her own faith. That means, as well, the young person should be engaged in the financial support of the Parish.

Support of the Church: One of the precepts of the church – parishioners should be generous in supporting the material needs of the church. Today, we do this best by regularly using envelopes to help with the expenses of administering a very large parish such as St. Kevin's.

Needing a Letter of Permission: Hospitality is a wonderful characteristic of St. Kevin's Parish. And we do want to be open and hospitable to folks who are not registered members in the parish. Yet – we must be careful to observe church laws and regulations. We will consider doing a marriage or a baptism of those folks from elsewhere. But – we must ask that the person or persons making this request of us have a "letter of permission" from elsewhere, that is, from the parish in which they are actually living - a letter from the Pastor of that parish giving us permission to do the baptism or marriage. Without such a letter of permission our policy must be to refuse to do such baptisms or marriages.

Weddings: To be married in St. Kevin's, one should be registered in the parish. Please call at least six months in advance to make arrangements. If not a registered member of our parish, we must have a Letter of Permission from the Pastor in which the person(s) is registered. (See above.)

Baptisms: To be baptized in St. Kevin's, one should be registered in the Parish. Please call as early as possible to arrange a baptism. If one is not registered, we must have a Letter of Permission from the Pastor in which the family is registered. (See above.)

Pastoral References for Teachers: Pastoral references for teachers are given for those persons who are registered in St. Kevin's Parish. The Pastoral Reference for teachers testifies that the person practices his or her faith regularly. Sunday Eucharist is the great Christian norm for the practice of the faith. The Pastoral Reference for teachers inquires as to how active the person is in participating in different dimensions of parish or civic life.

Godparents / Christian Witness for Baptism: At baptism, a Roman Catholic sponsor is called a Godparent. All Godparents for Baptism should be practicing Catholics. One of the sponsors at baptism must be a Roman Catholic, 16 years of age and already confirmed. A non-Catholic sponsor is called a "Christian Witness". (This presumes that the non- Catholic is indeed a practicing Christian and baptized in a Christian church). In choosing a Godparent for baptism, parents should keep in mind that a Godparent at baptism should also be the person's sponsor at Confirmation.

Confirmation Sponsors: A Confirmation sponsor must be a practicing Roman Catholic, already confirmed and 16 years of age. We ask the sponsor at Confirmation to have a brief meeting with the Pastor of his/her Parish. Simply inform the Pastor of your desire to act as a Confirmation sponsor at St. Kevin's and kindly ask the Pastor to sign the Sponsor Form. The Sponsor Form itself presents in a clear way the expectations for a Confirmation Sponsor.

Parish Pastoral Practice.
• If someone is seriously sick at home or in the hospital, please call the office. One of the priests will be happy to visit.
• If one is unable to come to Sunday Eucharist over a long period of time, please call the office and arrange for a communion visit on the part of our Eucharist Ministers.
• When spending time in the hospital, please indicate that you are Roman Catholic and a member of St. Kevin's.
REMINDER:
Are You Registered in Our Parish?

Please do not take for granted that you are registered in the parish just because you attend Mass here. If we have no record of your parish membership, it could be quite embarrassing to us, or to you or your family, when someone wishes to make wedding plans, have a baby baptized, or if you have been asked to act as a sponsor for baptism or confirmation. Please fill out a registration form. This form is on the shelf in the book stand in the foyer of the church. When you have completed the form, place in the collection basket or return it to the Parish Office