December 10, 2023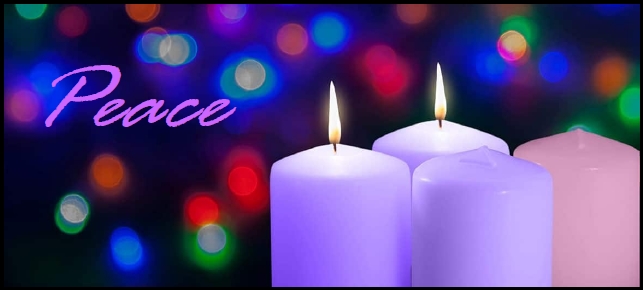 Second Sunday of Advent
As we embark upon the second Sunday of Advent, we are reminded of the powerful message echoed in Mark 1:1-8: the call to prepare the way for the Lord—a call that resounds through time and speaks intimately to our hearts in this season of Advent. Advent is more than a countdown to Christmas. Amidst the busyness of the season, Advent invites us to embark on a spiritual journey—a journey of introspection, prayer, and readiness. The color "purple" that permeates the season of Advent is a stark reminder of John the Baptist's call to repentance and new beginning. Beginning again is an invitation to look in two directions. What happened for me in the last year, both in my ordinary life and in my life as a believer, a person of faith? For what do I ask forgiveness? For what do I give thanks? We also look forward and the new beginning gives us a chance to start again on the Way of discipleship. May this Advent be a time of spiritual growth and renewed faith as we eagerly await the birth of the Prince of Peace.

Fr. Jinto, CSC
Share Advent Fund
We thank you very much for your generous response to our Share Advent collection in its first weekend. The collection goes towards helping and serving the poor in our own community of Welland – it will help provide nourishing meals to clients of our weekly Harvest Kitchen and answer the calls for food and clothing fielded by our St. Vincent de Paul Society. We also give a portion to The Hope Centre and Holy Trinity for their Breakfast Program. This collection remains open until after Christmas. For those wishing to make a donation in someone's honour – this could be a lovely Christmas gift. Please visit us in the office to donate and receive a Share Advent Card.
Advent Guest Preacher
We will have one of our very own Holy Cross Fathers – Fr. Andrew Morasse, CSC, Superior of Holy Cross Residence – preaching at all of our Masses this weekend. We hope that our parishioners will enjoy Fr. Andrew's Advent message.
Advent School Masses
We are pleased to have all of the students and staffs join us here at the church as we celebrate our Advent/Christmas School Masses with our three elementary schools. This past Friday we welcomed Alexander Kuska School. And this Wednesday we will have Holy Name at 10:00am and St. Kevin at 12:45pm. It is wonderful to be able to celebrate the season with our school communities.
Taizé Prayer for Advent
This Tuesday, December 12th at 7:00pm, we will have the Taizé Prayer Service for Advent. As we continue our Advent journey, we invite you to join us for quiet prayer, meditation, and beautiful music set to candlelight. We hope that many will attend
Put Christ's Light in the Spotlight
A reminder that students in Kindergarten to Grade 3 are invited to, "Put Christ's Light in the Spotlight" by drawing an 8x11 picture or a painting of the Nativity scene or ways you can spread the light of Christ. All the artworks will be collected by Friday, December 15th (through the schools or brought to the Parish Office) and displayed in the church foyer on the weekend of December 16th/17th. Their masterpieces will then be available for purchase through a donation to Share Advent. Bring your family to Mass next weekend to see your creations on display!
Crafting and Caring Event
Our Youth and Family Ministry would like to invite you to an afternoon session of crafting next Saturday!! We will be making crafts not only for us to enjoy in our homes but also for seniors who are in long term care and are unable to be with their loved ones. It's an opportunity to bring a smile to their faces on Christmas morning to know that we are thinking and praying for them. Please join us on Saturday, December 16th from 3:00pm to 4:30pm. Our invitation extends to worshiping together at the 5:00pm Mass. We hope you can join us!!
Reconciliation Service
Next Tuesday, December 19th at 7:00pm, we will have the Sacrament of Penance through our Parish Penitential Service. We will have a common examination of conscience and then there will be several Priests available to hear individual confessions. We gather as a community of persons seeking the peace and gentle healing that the sacrament brings. Please join us on Tuesday the 19th.
Christmas Liturgies Sign-Up
Lectors, Eucharistic Ministers, and Servers are invited to sign up for our Christmas & New Year Liturgies. Please see the sign-up sheet in the vestry. Thank you!
Catholic Women's League News
Strudel Fundraiser: Pick up your strudels today! They are available in the foyer on Saturday from 4:00pm-6:00pm and Sunday from 9:00am-1:00pm.Thank you to all those who supported this fundraiser. Profits from this fundraiser will go to the Parish for church needs and to community organizations.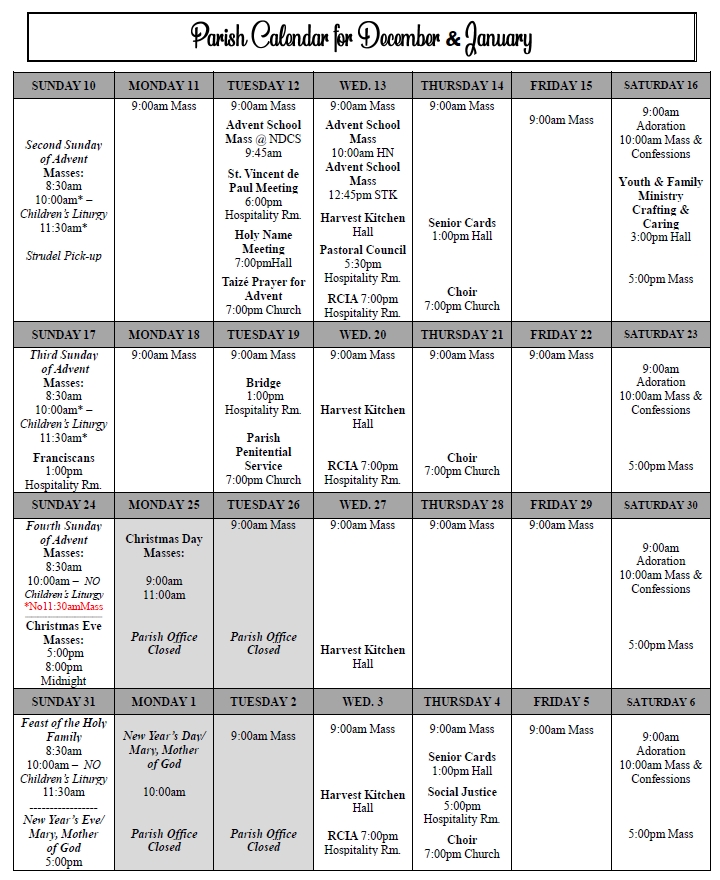 Please remember the Poor Box as you leave the Church.
Catholic Marriage Tribunal
If you are considering remarriage in the Catholic Church at some point, or hoping to enter a marriage with someone previously married, please speak to a priest, or contact the Diocesan Catholic Marriage Tribunal in St. Catharines at 905-687-8817. Information Pamphlets are available through the parish.
PLEASE READ THIS IMPORTANT NOTICE:
Due to the privacy laws, the hospital does not list our parishioners by address or parish unless you state your religion as ST. KEVIN PARISH when you are admitted. It would help the parish visiting team if when the hospital asks religion – you respond ST. KEVIN'S PARISH. If you or a family member enter a hospital for several days please be sure to call the parish office to let us know if you wish a visit. If you wish the Anointing of the Sick before an operation, either at home or while in the hospital, be sure to inform the parish office. A priest will come as soon as possible to administer the Sacrament of the Anointing of the Sick. We also have a group of lay people from our parish who each week visit or bring communion to Catholic parishioners in the hospital. Please, we need to know that you are there!
A Review of Some Parish Policies
Requests: We often receive requests for baptism or marriage, or Pastoral References for teachers, who are not members of St. Kevin's Parish. Examples would be: They might like our church and so want to get married here although they live elsewhere. Or: they were baptized here and so they would like their child to be baptized here although they live elsewhere. Or: I went to Notre Dame College School. The main point here is "they live elsewhere". Now – wherever elsewhere might be, there is a Catholic parish there. Our policy is to minister to the parishioners of St. Kevin's. We have more than 3400 families; there is a lot of ministry work for us to do here. Our focus and attention is first and foremost on our own parishioners.

Parishioners should be registered: And here it is important to remember – that all of our parishioners should be registered in the parish, that is, on our books with names and phone numbers and addresses.

Young Adults: There is a point when the young person must register in our Parish. It does not suffice to say my parents are members of St. Kevin's and I was confirmed at St. Kevin's when that person has been living on his or her own. The young adult should not depend on the faith and loyalty of parents or grandparents but must take ownership of his or her own faith. That means, as well, the young person should be engaged in the financial support of the Parish.

Support of the Church: One of the precepts of the church – parishioners should be generous in supporting the material needs of the church. Today, we do this best by regularly using envelopes to help with the expenses of administering a very large parish such as St. Kevin's.

Needing a Letter of Permission: Hospitality is a wonderful characteristic of St. Kevin's Parish. And we do want to be open and hospitable to folks who are not registered members in the parish. Yet – we must be careful to observe church laws and regulations. We will consider doing a marriage or a baptism of those folks from elsewhere. But – we must ask that the person or persons making this request of us have a "letter of permission" from elsewhere, that is, from the parish in which they are actually living - a letter from the Pastor of that parish giving us permission to do the baptism or marriage. Without such a letter of permission our policy must be to refuse to do such baptisms or marriages.

Weddings: To be married in St. Kevin's, one should be registered in the parish. Please call at least six months in advance to make arrangements. If not a registered member of our parish, we must have a Letter of Permission from the Pastor in which the person(s) is registered. (See above.)

Baptisms: To be baptized in St. Kevin's, one should be registered in the Parish. Please call as early as possible to arrange a baptism. If one is not registered, we must have a Letter of Permission from the Pastor in which the family is registered. (See above.)

Pastoral References for Teachers: Pastoral references for teachers are given for those persons who are registered in St. Kevin's Parish. The Pastoral Reference for teachers testifies that the person practices his or her faith regularly. Sunday Eucharist is the great Christian norm for the practice of the faith. The Pastoral Reference for teachers inquires as to how active the person is in participating in different dimensions of parish or civic life.

Godparents / Christian Witness for Baptism: At baptism, a Roman Catholic sponsor is called a Godparent. All Godparents for Baptism should be practicing Catholics. One of the sponsors at baptism must be a Roman Catholic, 16 years of age and already confirmed. A non-Catholic sponsor is called a "Christian Witness". (This presumes that the non- Catholic is indeed a practicing Christian and baptized in a Christian church). In choosing a Godparent for baptism, parents should keep in mind that a Godparent at baptism should also be the person's sponsor at Confirmation.

Confirmation Sponsors: A Confirmation sponsor must be a practicing Roman Catholic, already confirmed and 16 years of age. We ask the sponsor at Confirmation to have a brief meeting with the Pastor of his/her Parish. Simply inform the Pastor of your desire to act as a Confirmation sponsor at St. Kevin's and kindly ask the Pastor to sign the Sponsor Form. The Sponsor Form itself presents in a clear way the expectations for a Confirmation Sponsor.

Parish Pastoral Practice.
• If someone is seriously sick at home or in the hospital, please call the office. One of the priests will be happy to visit.
• If one is unable to come to Sunday Eucharist over a long period of time, please call the office and arrange for a communion visit on the part of our Eucharist Ministers.
• When spending time in the hospital, please indicate that you are Roman Catholic and a member of St. Kevin's.
REMINDER:
Are You Registered in Our Parish?

Please do not take for granted that you are registered in the parish just because you attend Mass here. If we have no record of your parish membership, it could be quite embarrassing to us, or to you or your family, when someone wishes to make wedding plans, have a baby baptized, or if you have been asked to act as a sponsor for baptism or confirmation. Please fill out a registration form. This form is on the shelf in the book stand in the foyer of the church. When you have completed the form, place in the collection basket or return it to the Parish Office