May 28, 2023

Pentecost Sunday
Pentecost was the Jewish festival of the harvest (also called the Feast of Weeks), celebrated 50 days after Passover, when the first fruits of the corn harvest were offered to the Lord. A feast of pilgrimage, Pentecost also commemorated Moses' receiving the Law on Mount Sinai. For the new Israel, Pentecost becomes the celebration of the Spirit of God's compassion, peace and forgiveness – the Spirit that transcends the Law and becomes the point of departure for the young Church's universal mission (the planting of a new harvest). Today's Gospel of the first appearance of the Risen Jesus before his ten disciples (remember Thomas is not present) on Easter night is John's version of the Pentecost event. In "breathing" the Holy Spirit upon them, Jesus imitates God's act of creation in Genesis. Just as Adam's life came from God, so the disciples' new life of the Spirit comes from Jesus. In the Resurrection, the Spirit replaces their sense of self-centered fear and confusion with the "peace" of understanding, enthusiasm and joy and shatters all barriers among them to make of them a community of hope and forgiveness. By Christ's sending them forth, the disciples become apostles – "those sent." So let's celebrate of our new life in the Spirit and the birthday of the church as the new people of God.

(Courtesy of tkayala.com )
Financial Report
Dear Members of the Parish Community of St. Kevin,

It is time for us to include a financial statement and update to the parish. This statement is a way of being accountable to you for your generous financial contributions to our parish. And we are acutely aware that it is your donations that fund the workings of your parish. Our ministry and its operations would not be possible without your offerings and for your benevolence we are most grateful.

Earlier this month, our Stewardship Committee – which oversees and advises the pastoral team on matters of fiscal responsibility, infrastructure, and plant management – met to do a final evaluation of all of our 2022 revenues and expenses, and an assessment of our anticipated 2023 incomes and expenditures. We wish to thank the members of our Stewardship Committee: Tony Backler, Tim Clutterbuck, Mike Dinga, Peter Everest, and Gary Talosi for their ministry. We are especially grateful to John Bedard, our Parish Bookkeeper, for all of his hard work in his attentiveness to the financial and infrastructural matters of the Parish. We are also very grateful to Jessica Soul and Diana Lopez Marin, who are each an integral member of our Pastoral Team.

As an additional component of our Stewardship meeting, we studied a four year revenues/expenditures comparison. It is this document that we now share with the Parish. Given how abnormal 2020 and 2021 were on many levels, including financially, we will go as far back as 2019 to provide a more comprehensive picture of our financial footing.

Overall, we are pleased to report that we are in a healthy financial position thanks to our present and past parishioners. When looking at 2020, 2021 and 2022, we certainly had a significant decline in revenues compared to 2019. Thankfully, we can see that 2022 was much improved over 2020 and 2021. We were also fortunate to have our 2020 and 2021 expenditures far below their respective revenues. 2022 expenses were above the revenues taken in, but this was largely a result of a delayed disbursement of our Share Advent fund, as well as some additional expenditures and repairs necessitated as we transitioned back to being fully open and operational post lockdowns/restrictions. While we have undoubtedly been through a few years of reduced donation levels, we have certainly mitigated this with responsible spending and we feel hopeful going forward. We can positively sense a renewed parish spirit amongst our faithful, an even greater attendance at Mass, and we have welcomed many new parishioners to our community. We are also glad to have maintained a considerable reserve that will be fundamental to maintaining our worship space and completing the required upgrades and repairs, as needed, in future years.

We request that you please look to continue your donations or, if possible, to make an even greater weekly contribution so that we can continue to be as efficient and effective in our ministry and outreach. If you are not already using our weekly envelopes, please pick up a box of envelopes from the bookshelf in the foyer or from the parish office. On behalf of the parish, we are also very grateful to those who had made arrangements to include St. Kevin's Memorial Fund as part of their estate, as well as families and friends who have made donations in a loved one's memory. Their financial consideration is so kind and those donations are put towards liturgical enhancement and special projects.

In closing, we once again thank every member of the Parish for your financial commitment and generosity. May God bless you all!

Father Jinto, CSC, Father Sunil, CSC & St. Kevin Parish Stewardship Committee

Please tap this

link

to see the 2022 Financial Statement
Upcoming Save the Dates
We will be having our Pentecost Taizé Prayer on Tuesday at 7:00pm in the Church. Through silence, prayer, and music we are able to enjoy the presence of the Lord and be filled with the Holy Spirit. We encourage all of our Parishioners to join us.

Join us for the 10:00am Mass on Saturday, June 3rd as we celebrate the Feast of St. Kevin.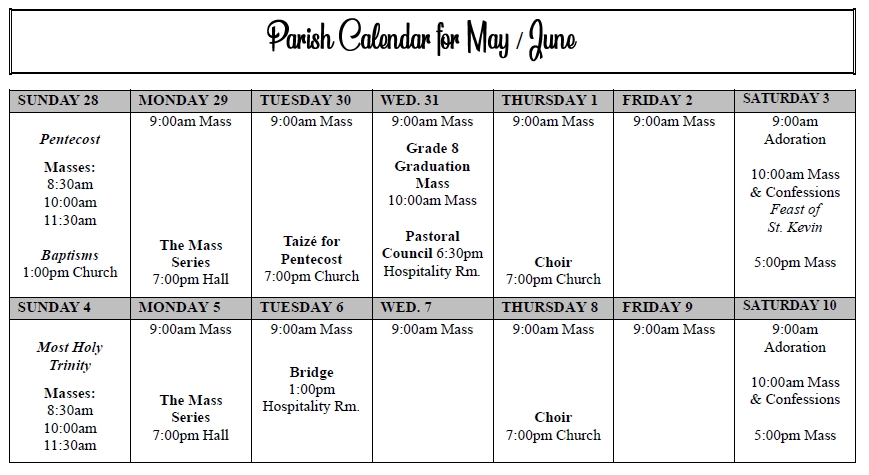 Please remember the Poor Box as you leave the Church.
Worth repeating:
Creating Three New Areas for Persons with Disabilities.

Area #1 – The choir seats. Except for the 10:00 Sunday morning Mass, the choir seats go empty. So – for all Masses except for the Sunday 10:00 Mass there are several places available; choir seats have been arranged creating space to easily accommodate walkers. A bonus here is that outside of the Sanctuary, these seats are the most comfortable seats in the church.

Area #2 – The pew immediately in front of the baptismal font. There are places in this pew easily for three persons and perhaps four persons with walkers. The "disability" sign is attached to this pew. Adjacent to the font as well, there is space or two for two persons in wheelchairs.

Area #3 – The last pew on the side of the church opposite the confessional /reconciliation room. This pew has been altered to create more space for walkers. It can accommodate three walkers comfortably. There is a place adjacent also perfect for a wheel chair. The "disability" sign is attached to this pew.

Two further points!

At each Sunday Eucharist, a Minister of the Eucharist will bring Holy Communion to the handicapped areas.

All parishioners are asked to please respect these designated areas as places for persons with disabilities.

The Stewardship Committee's decision is clear that we must respect safety and fire codes. The foyer chairs against the back wall unfortunately, violate the fire code. Our hope is that designating these three new areas for persons with disabilities will be satisfactory. Thanks very much for your cooperation.
Catholic Marriage Tribunal
If you are considering remarriage in the Catholic Church at some point, or hoping to enter a marriage with someone previously married, please speak to a priest, or contact the Diocesan Catholic Marriage Tribunal in St. Catharines at 905-687-8817. Information Pamphlets are available through the parish.
PLEASE READ THIS IMPORTANT NOTICE:
Due to the privacy laws, the hospital does not list our parishioners by address or parish unless you state your religion as ST. KEVIN PARISH when you are admitted. It would help the parish visiting team if when the hospital asks religion – you respond ST. KEVIN'S PARISH. If you or a family member enter a hospital for several days please be sure to call the parish office to let us know if you wish a visit. If you wish the Anointing of the Sick before an operation, either at home or while in the hospital, be sure to inform the parish office. A priest will come as soon as possible to administer the Sacrament of the Anointing of the Sick. We also have a group of lay people from our parish who each week visit or bring communion to Catholic parishioners in the hospital. Please, we need to know that you are there!
A Review of Some Parish Policies
Requests: We often receive requests for baptism or marriage, or Pastoral References for teachers, who are not members of St. Kevin's Parish. Examples would be: They might like our church and so want to get married here although they live elsewhere. Or: they were baptized here and so they would like their child to be baptized here although they live elsewhere. Or: I went to Notre Dame College School. The main point here is "they live elsewhere". Now – wherever elsewhere might be, there is a Catholic parish there. Our policy is to minister to the parishioners of St. Kevin's. We have more than 3400 families; there is a lot of ministry work for us to do here. Our focus and attention is first and foremost on our own parishioners.

Parishioners should be registered: And here it is important to remember – that all of our parishioners should be registered in the parish, that is, on our books with names and phone numbers and addresses.

Young Adults: There is a point when the young person must register in our Parish. It does not suffice to say my parents are members of St. Kevin's and I was confirmed at St. Kevin's when that person has been living on his or her own. The young adult should not depend on the faith and loyalty of parents or grandparents but must take ownership of his or her own faith. That means, as well, the young person should be engaged in the financial support of the Parish.

Support of the Church: One of the precepts of the church – parishioners should be generous in supporting the material needs of the church. Today, we do this best by regularly using envelopes to help with the expenses of administering a very large parish such as St. Kevin's.

Needing a Letter of Permission: Hospitality is a wonderful characteristic of St. Kevin's Parish. And we do want to be open and hospitable to folks who are not registered members in the parish. Yet – we must be careful to observe church laws and regulations. We will consider doing a marriage or a baptism of those folks from elsewhere. But – we must ask that the person or persons making this request of us have a "letter of permission" from elsewhere, that is, from the parish in which they are actually living - a letter from the Pastor of that parish giving us permission to do the baptism or marriage. Without such a letter of permission our policy must be to refuse to do such baptisms or marriages.

Weddings: To be married in St. Kevin's, one should be registered in the parish. Please call at least six months in advance to make arrangements. If not a registered member of our parish, we must have a Letter of Permission from the Pastor in which the person(s) is registered. (See above.)

Baptisms: To be baptized in St. Kevin's, one should be registered in the Parish. Please call as early as possible to arrange a baptism. If one is not registered, we must have a Letter of Permission from the Pastor in which the family is registered. (See above.)

Pastoral References for Teachers: Pastoral references for teachers are given for those persons who are registered in St. Kevin's Parish. The Pastoral Reference for teachers testifies that the person practices his or her faith regularly. Sunday Eucharist is the great Christian norm for the practice of the faith. The Pastoral Reference for teachers inquires as to how active the person is in participating in different dimensions of parish or civic life.

Godparents / Christian Witness for Baptism: At baptism, a Roman Catholic sponsor is called a Godparent. All Godparents for Baptism should be practicing Catholics. One of the sponsors at baptism must be a Roman Catholic, 16 years of age and already confirmed. A non-Catholic sponsor is called a "Christian Witness". (This presumes that the non- Catholic is indeed a practicing Christian and baptized in a Christian church). In choosing a Godparent for baptism, parents should keep in mind that a Godparent at baptism should also be the person's sponsor at Confirmation.

Confirmation Sponsors: A Confirmation sponsor must be a practicing Roman Catholic, already confirmed and 16 years of age. We ask the sponsor at Confirmation to have a brief meeting with the Pastor of his/her Parish. Simply inform the Pastor of your desire to act as a Confirmation sponsor at St. Kevin's and kindly ask the Pastor to sign the Sponsor Form. The Sponsor Form itself presents in a clear way the expectations for a Confirmation Sponsor.

Parish Pastoral Practice.
• If someone is seriously sick at home or in the hospital, please call the office. One of the priests will be happy to visit.
• If one is unable to come to Sunday Eucharist over a long period of time, please call the office and arrange for a communion visit on the part of our Eucharist Ministers.
• When spending time in the hospital, please indicate that you are Roman Catholic and a member of St. Kevin's.
REMINDER:
Are You Registered in Our Parish?

Please do not take for granted that you are registered in the parish just because you attend Mass here. If we have no record of your parish membership, it could be quite embarrassing to us, or to you or your family, when someone wishes to make wedding plans, have a baby baptized, or if you have been asked to act as a sponsor for baptism or confirmation. Please fill out a registration form. This form is on the shelf in the book stand in the foyer of the church. When you have completed the form, place in the collection basket or return it to the Parish Office