As new information becomes available, this page will be updated.
New information will be placed just below this box.
This does not mean that all the information below is not important for your to read.
We encourage you to take the time to read all the information on this page.
July 5, 2020
Office Reopening
Beginning on Monday (July 6), our Parish Office will once again be open to the public with the following restrictions:
The office will be open Mondays, Tuesdays, Thursdays, and Fridays from 11:00a.m. – 3:00p.m. The office will be closed on Wednesdays.

Our staff will be also be available by phone during those times.

Visits should be quick and efficient, and only when necessary to do so in person. Queries by phone and email are still very much preferred.

Masks are not mandatory at this time but are strongly encouraged.

The church will also be available for personal prayer during those times.

Please enter using the office doors accessible from the parking lot and follow the instructions to sanitize upon entering.
June 19
Church Re-opening Instructions for St. Kevin Parish
Please read carefully!
Mass Times
Our Mass Times for this weekend and for as long as needed are Saturday 5:00p.m. / Sunday 8:00a.m.; 10:00a.m.; Noon. There will be no Sunday 5:00p.m. Mass. The reason for the time changes for Sunday morning is to allow a bit more time between the Masses to clean pew surfaces. Following this weekend we will assess if any changes need to be made.

Our weekday Masses have already resumed. Weekday Masses are at 8:00a.m. Monday through Friday. On Saturday mornings we will have Holy Hour from 9:00a.m. – 10:00a.m. Mass will be at 10:00a.m followed by confessions. Please follow the instructions given by the Priest following Mass. In the event of a funeral taking place on future Saturdays, Holy Hour and Confessions will not take place, and the 10:00a.m. Mass will become the funeral Mass.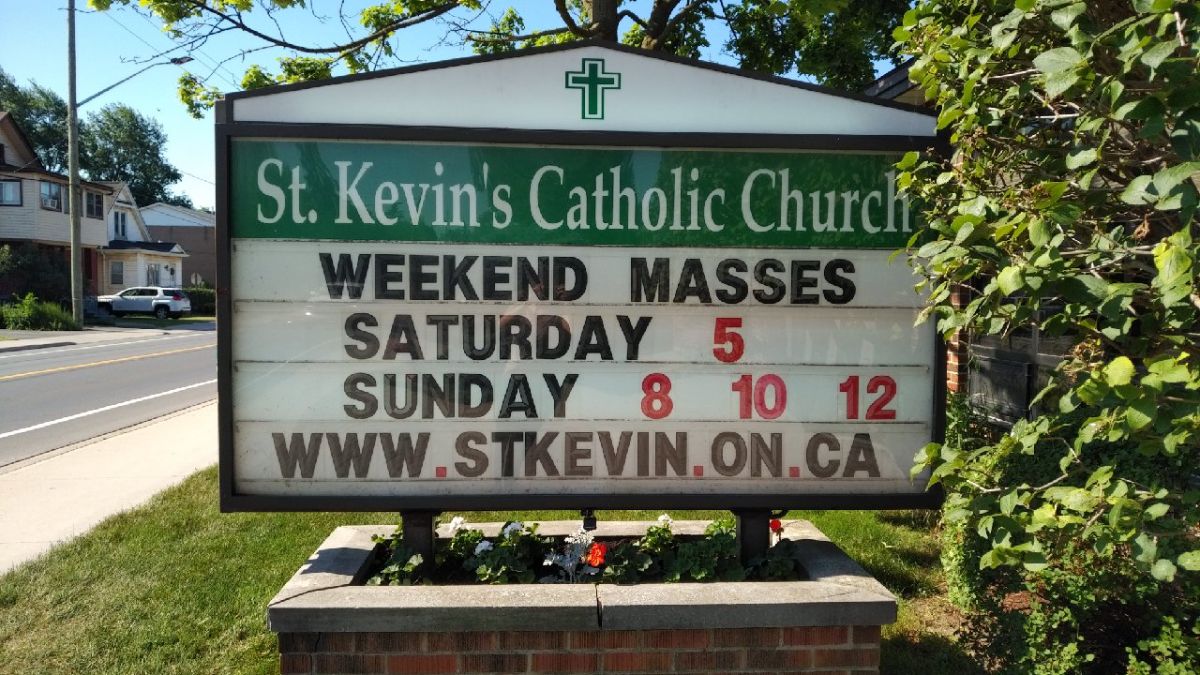 Entrance/Exit
Our Diocese has recommended we use one dedicated entrance and one dedicated exit.

For the weekend Masses, everyone should enter via the Northcote Foyer Door. It will be automatically held open before Mass. All other doors will be locked.

Everyone should exit via the office doors to the parking lot. Those doors will be propped open at the end of each Mass.

Although there is a natural tendency to linger and catch up with fellow Parishioners, we ask you to avoid doing so, so as to empty the church for the necessary sanitizing in between Masses and to ensure proper social distancing measures.
Seating
We have marked very clearly where to sit with stickers directly on the pews – please sit on those markings only.

Families/couples/members of the same household can certainly sit together but please be respectful of the adjacent areas. Our directors will also assist in guiding Parishioners to be seated.

The pews that we cannot use are blocked off with orange rope. We ask that you keep these ropes in place.
Attendee Restrictions
Following government regulations and proper social distancing practices, our church is restricted to only accommodating 75 people per Mass (this includes the main level and the balcony). The first 75 people can come directly in and be seated. If more than 75 people come per Mass then those beyond 75 will unfortunately have to return home and either try coming back for another Mass time or watch our Mass recording online – we will still send out/post on our website as usual this weekend. We hope that we won't have to turn too many away. We can reassess our Mass times after the first weekend of Masses once we have a better sense of the amount of attendees.
Mass Format/Music/Participation
Under the direction of our Diocese, there will be no congregational singing and all hymn books, missals, etc. have been removed.

Should you wish to bring your own personal Missal, please do so and also please take it home with you. Belongings left behind will be discarded.

The Priest will process in from the Sacristy to begin Mass and will recess into the Sacristy at the conclusion of Mass.

We will have a musician who will play briefly for us during the entrance/exit/communion.

Mass responses will all be spoken and not sung (ex. Gloria, Psalm).

We will only have one lector per Mass.

There will be no handshakes/hugs, etc. for the exchange of peace – just simple nods, bows, smiles.

There will be no altar servers for the time being.
Collection
There will be no formal offertory or procession of the gifts. This means that no formal collection will be taken up as part of the Mass. A provision will be made as people are coming into/exiting the church for Parishioners to place their collection envelopes.

Communion
For Communion we ask that you follow the directional instructions provided at Mass. We will maintain a single line down the main aisle. Please follow and stand on the red stickers indicated. We also highly encourage that Communion be received in the hand. The Presider will instruct clearly and will explain how the dialogue before receiving the host will be exchanged. Our directors will also assist in guiding Parishioners how to proceed for Communion.

Our Priests will give out Communion – we will not have any Eucharistic Ministers assist for the time being.
Safety Measures & Precautions
Please follow the signs posted throughout the church and on the doors, as well as the guidance of our directors.

Sanitizer is provided at several locations in the church. Please use upon entering the church.

Parishioners are encouraged to wear masks when attending Mass. This is not mandatory but highly recommended. Parishioners should bring their own masks and we ask you to please take them home with you following the Mass (do not discard here at the church). At Communion time, one can simply adjust their mask accordingly.

Our cleaning teams will disinfect pew rails after each Mass.

If you have any symptoms, are unwell, or are simply uncomfortable attending in person, please stay home and you are dispensed from your Sunday obligation.

Again, our Mass recording will be online – we will still send it out/post on our website as usual this weekend and we will assess the need to continue this for future weekends.
Washrooms
Washrooms are restricted to use only when absolutely necessary.
Miscellaneous
There will be no bulletins provided.

For reasons of maintaining social distancing, we ask that Parishioners refrain from entering the Sacristy. If you wish to have a candle lit, please speak with the Sacristan or Priest for that Mass and they can do so for you.
Parish Office/Sacraments/Parish Activities and Groups
The Parish office continues to be closed to the public. We will keep you informed of when the Diocese gives us the directives to open.

In regards to the Sacraments and Celebrations (Baptism, First Communion, RCIA, Weddings, Funeral/Masses etc.) we are working on how we will proceed with these in the coming days/weeks. Our staff will coordinate over the next while to resume these in accordance with Diocesan and government regulations, and will contact those Parishioners to set-up, plan, reschedule, etc.

Under the Direction of the Diocese, Parish ministries, meetings, and activities are still on hold.
We are most grateful to be open again and we will do our very best to ensure everyone's safety. Please be patient with us, and thank you in advance for your understanding and cooperation!
- The Parish Team
June 17, 2020
Announcement of Reopening
&
A Reflection on Faith

Good afternoon Parishioners,
As you are aware, we have been given permission by the Ontario government to reopen the church for Mass at 30% capacity.
In following our Diocesan directives we have been instructed to only open if we have all of the necessary protocols in place that have been mandated and if we are confident that we can do so while keeping our Parishioners safe.
In light of that fact, we have decided not to open for Masses this weekend.
We know that other churches may be opening this weekend and there is a lot of excitement to do so, but please know we do not feel like we would be ready to do so safely this weekend.
We will resume weekday Mass on Wednesday, June 17th at 8:00a.m.
We will resume Sunday Masses with the following schedule: Saturday, June 20 at 5:00p.m. and Sunday, June 21
at 8:00a.m. / 10:00a.m. / 12:00p.m. (*note change in Mass times and we will not have Sunday 5:00p.m. Mass)
Next week we will send an updated list of the new protocols and procedures. Do not worry – we will make this as easy and simple as possible for all of you to follow!
We must also remind Parishioners that you should only plan to attend Mass if you are healthy and comfortable. Those who do not feel comfortable coming out are still dispensed from their Sunday obligation.
Under the Diocesan directives the Parish Office will remain closed to the public.
In the meantime, please view the following message from Father Vijai, which is a beautiful reflection on 'Faith.' Simply click here.
Also, you can anticipate the Mass recording for this weekend – The Body and Blood of Christ - to be sent out/added to our website Saturday evening as per usual.
Lastly, to view Bishop Bergie's letter to the Parishioners of the Diocese of St. Catharines, please click here.
Thank you all for your patience and understanding, and we look forward to seeing you very soon!
Many blessings,
The Parish Team
F. Y. I.
All those from the parish who have submitted their email to the office have been receiving weekly updates on what is happening in the parish.
If you have not yet sent in your email, please do so now so you are up to date on what is happening.
Please include your First and Last name in the email.
June 16, 2020
Please read carefully!
Dear Parishioners,

As many of you are now aware the Government of Ontario gave an update on the reopening of the Province yesterday.
Places of worship are permitted to reopen, as of Friday, June 12, 2020, 12:01 a.m., with attendance limited to no more than 30 per cent of the building capacity to ensure the safety of worshipers.
While this is wonderful news and many of you have already called, emailed, and dropped by to see what is happening at St. Kevin's, we are asking you to be a bit more patient over the next few days. Your enthusiasm is admirable but know that we want to do things safely and properly, and this takes a bit of time.

Since this was such a sudden announcement, we are waiting for the official word from our Diocese. More information will be sent to us following the meetings on the development of diocesan guidelines for the reopening of parishes scheduled for this week. After the meetings and once we have been made aware of what the specific directives from our Diocese are, we will email again with the plan for action. It will also take a bit of time to fully implement.

Church and worship will look very different than what we are used to, so we are working and will continue to work diligently to put in place the necessary requirements and determine exactly how our church will adapt to the pending protocols.
We are reminded of an ancient Tamil proverb that Fr. Vijai often shares with us....
If one can wait patiently for the length of time it takes for the rice to cook, then one can certainly wait a little longer until the rice has cooled. If one eats the rice too soon they may get burnt.

Looking forward to hopefully seeing you soon!
The Parish Team
April 8, 2020
Holy Week
Video Mass Schedule & Reflection
As we enter further into Holy Week 2020, we are once again grateful to be able to connect with our Parish Community. We pray that you are staying safe and keeping well.
We must first thank all of you for your gratitude and kind feedback regarding our Palm Sunday Video Mass. This is a time where we are all learning to adapt and learning new ways to connect with one another. Your encouragement was much appreciated and has spurred us on in this initiative.
We will be sending Video Mass recordings for Holy Thursday, Good Friday & Easter Sunday. We hope that many of you will be able to watch and please know that we are celebrating with you in spirit. Please also be alert and watch your emails accordingly. A link for that day's liturgy will be included in each email. We will be emailing our the respective liturgies as follows:

Holy Thursday - 6:00p.m.
Good Friday - 12:00p.m.
Easter Sunday - 7:00a.m.
You are welcome to watch at your own preffered time but just know that it will be sent to you at the times indicated. The recordings will also be available on our website as of those times.

Included in this email is the Easter Letter from Bishop Bergie. Please click on the link above to view it.
Below you will find a reflection from Father Jim, CSC to help guide your prayer throughout the Easter Triduum. For each day he has included a reflection and a prayer. We encourage you to read it and pray these prayers over the next few days.
Please know that you continue to be in our prayers and our thoughts.
Blessings and peace,
The Parish Team


An Easter Meditation For an Extended COVID-19 Moment
by Father Jim, CSC
In my prayer, over these last few weeks, I have come to realize that the Holy Spirit's gifts are without limit. Two of those gifts are MEMORY and GRATITUDE. Perhaps in the forced down time of isolation each of us might find the time to dig into our "memory" and retrieve three special experiences that gave meaning and have enriched you on your life journey. Doing that kind of digging into your life experience can lead you to "gratitude" --- to say "thank you" to the God who enfolds you and surrounds you".

As a priest and liturgical minister, the high point for me each year is "the Sacred Triduum" – the holy days of Holy Thursday, Good Friday and Easter Sunday. This year will be very different for me and for the Church. Churches are empty. There is no community worship. This is a moment to activate "memory".
Holy Thursday
Celebration of the Lord's supper! They were there in the Upper Room, Jesus and his friends. It was the Hebrew Passover feast they were celebrating. But Jesus incorporated three different twists into the traditional Passover ritual. Jesus took bread, blessed it and gave it to his friends ---TAKE AND EAT ---THIS IS MY BODY. And then he took a cup of wine and gave it saying --- TAKE AND DRINK, THIS IS MY BLOOD. And he said --- DO THIS IN MEMORY OF ME. And the third twist --- he put on an apron, got a basin of water and washed the feet of each of his disciples. And he said --- AS I HAVE DONE THIS TO YOU SO YOU DO THIS TO ONE ANOTHER.

Prayer
Authentic love, Lord, is service. That we may always remember that we are foot-washers, meant to serve each other. Amen.


Good Friday
Every Good Friday I must hear Aretha Franklin and Mavis Staples singing O HAPPY DAY WHEN JESUS WASHED MY SINS AWAY. And that is why this Friday is "good". No need to spend too much time enumerating sins. Sin is refusing to love. We do that a lot. Putting self before others. The day of the Cross reminds us that Jesus took all of sin upon himself and attached it to his Cross. We can make the good thief's words our own – JESUS REMEMBER ME WHEN YOU COME INTO YOUR KINGDOM.

Prayer
Gracious God, that we might have the strength to carry the cross and the generosity to help others bear the heaviness of their crosses. Amen.


Easter
Easter is the crown jewel of the life of the Christian community. It is best experienced in the exquisite worship of the Vigil of Holy Saturday night. Our very rich prayer tradition is some 2,000 years in the making. This Easter celebration touches each of the senses. Sight: the lighting of the fire and the new Easter Candle carried through the dark church; Sound: the magnificent proclamation in song of the Easter praise and the retelling from our Scriptures of the story of our salvation; Touch: the newly blessed waters of baptism sprinkled upon us as we renew once more our baptism vows; Smell: the incense blessed and used for blessing of the Easter Candle and the Book of the Gospels; Taste: the Eucharistic bread and wine that become the Body and Blood of Jesus Christ, our Risen lord. Easter culminates and celebrates that awesome mystery begun at Christmas!

Prayer
Heavenly Father, the Resurrection of your Son Jesus fills us with hope. In our lives, as we journey, may we always be instruments of your joy and hope. Amen.
Christ has died; Christ is risen; Christ will come again!

Tapping Into Our Irish Tradition – A Celtic Prayer
God to enfold me,
God to surround me,
God in my speaking,
God in my sleeping,
God in my waking,
God in my watching,
God in my hoping,
God in my life,
God in my lips,
God in my soul,
God in my heart.
April 5, 2020
Good morning Parishioners,

As we enter into Holy Week, we have prepared a video recording of our Palm Sunday Mass here at St. Kevin Parish. Although we miss having you with us, and we are certain that you miss being here too, this video is a way for us to celebrate together.

We encourage you to watch our Palm Sunday Mass by simply clicking on the following link:
https://youtu.be/G_1bXfM1sHo

The Mass can also be accessed via our Parish website www.stkevin.on.ca

We did not anticipate having palms to distribute this year but we were fortunate to have received a limited amount. However, given the most recent update from the Diocese of St. Catharines, we have been instructed to not distribute any palms at this time. We will keep the limited quantity we received here at the Parish to be distributed at a later date. Although they may be dry by the time everyone can return to the church, we will save them for whenever that time might be. For the latest update from Bishop Bergie, please click here: Memo from Bishop Bergie April 3.

It is our intention to be able to also send a video recording of our upcoming Holy Week Liturgies (Holy Thursday, Good Friday & Easter Sunday). We will forward video links in the same format and hope that you will follow along in prayer.

We also ask that if you are in contact with fellow Parishioners and checking in on them, please urge them to sign up to our email list by emailing stkevinoffice@gmail.com or if they have already signed up and are not receiving, to please check their 'junk' or 'spam' folders. That way they can celebrate along with us. Of course they can also visit our website directly.

Wishing you all a very safe and meaningful Holy Week.
-The Parish Team
March 27
Further Update from Bishop Bergie

Good afternoon Parishioners,

At this time we must inform you that as per Bishop Bergie's latest directive surrounding the need to enforce stricter measures to protect our parish communities, effective immediately all churches are to be closed to visitors until further notice.

For the full notice from Bishop Bergie, please click here.

Here at St. Kevin's we will no longer be able to provide any time periods to visit for personal prayer nor will we have formal office hours.

Please know that we are still praying and thinking of all of you, and we will continue to do so.

We will be monitoring our parish emails and we will be working in partnership with our answering service. If you require assistance, please email stkevinoffice@gmail.com or call the rectory at 905.735.5885.
We will do our very best to stay in touch with our parish community and may God bless each of you.

-The Parish Team
March 24, 2020
Harvest Kitchen - Cancelled

The remaining Harvest Kitchen meals for this week have all been cancelled, including the meal scheduled for Wednesday, March 25 at St. Kevin's.
COVID-19 Pastoral Practices

The following is our directive from The Diocese of St. Catharines through a combination of updates.
The situation surrounding the COVID-19 virus is fluid and changing on a daily basis. Please continue to pray for those affected and for our healthcare workers and facilities. We have yet to see the full onslaught of the disease and the full impact on our people.

Effective immediately, the following Pastoral Practices in the Diocese of St. Catharines are in effect.

Sunday Liturgies, Weekday Mass, Chrism Mass and Holy Week

Out of an abundance of caution, all Sunday Masses are cancelled immediately until April 18th, 2020. Bishop Bergie grants all the faithful a dispensation from their Sunday obligation.
The celebration of daily Mass is also cancelled until further notice.
Holy Week & Easter Liturgies are cancelled.
The Chrism Mass, scheduled for April 7, 2020 is cancelled.

Arrangements are being made to live stream one Sunday Mass from the Cathedral. Liturgies for Holy Week will also be live streamed from the Cathedral. Further information will be forthcoming.

*All non-essential parish meetings, outside groups, educational seminars and social events are cancelled until further notice.

Funerals

Funeral Masses and Receptions in parishes are not permitted until further notice. Rite of Committal may be celebrated at the cemetery with immediate family members present. A Funeral Mass or Memorial Mass can be celebrated at a later date. Vigil Prayers and Funeral Liturgies at funeral homes are permitted with the limitations given by public health guidelines.

Confirmations

All confirmations scheduled up to and including April 18, 2020 have been rescheduled. Dates for confirmations after April 18 may need to be rescheduled as circumstances dictate.

We will continue to monitor the situation, and be attentive to the direction and advice of our public health officials. If further measures are required or recommended, we will communicate this to parishes and post the information on the diocesan website www.saintcd.com .

UPDATES SPECIFIC TO ST. KEVIN PARISH:
All social groups (Senior Cards, Bridge Club) are cancelled until further notice.

Pasta Take-Out for March 24th has been cancelled.

Our Lenten Bible Study (How Not to Read the Bible) has been cancelled. We will consider resuming this at a future date.

All evening Lenten Masses and Stations of the Cross have been cancelled.

All Mass Intentions booked will be honoured and said by our Priests.

Parish Ministries (CWL, Holy Name, St. Vincent de Paul, Choir, Ladies Bible, Bereavement, Secular Franciscans) will not meet during this time period. Future meeting dates will be considered.

Our IGNITE evening scheduled for March 28th has been cancelled.

RCIA and RCIC sessions have been cancelled for the time indicated above. The reception of the Sacraments of Initiation for those catechumens and candidates will be rescheduled to a further date not yet determined.

First Communion Class Celebrations will be rescheduled to a further date not yet determined.

Harvest Kitchen will continue for the last two Wednesdays (March 18th and 25th) take-out only.

St. Kevin Parish Food Pantry has been cancelled until further notice.

St. Kevin's Parish will keep the Parish open for a few hours on designated days to allow personal prayer in the church.

The hours are as follows:

Mondays, Wednesdays, Fridays & Sundays 10:00a.m. - 12:00p.m.
Our office hours will also match these time periods, excluding Sunday.
Please sanitize hands upon entry and keep a distance of two metres from other parishioners in prayer.
For Mondays, Wednesdays & Fridays, please enter from the office entrance which is located from the parking lot between the church and the garage. The first glass door is open and the second one is locked. When you reach the second door, please ring the doorbell and our staff will invite you in.
For Sundays please also enter through the office entrance (but both doors will be unlocked) or the Northcote foyer entrance.
Again we will continue to do our very best in keeping you informed and responding to any needs as they arise.

* For the full update from Bishop Bergie, Diocese of St. Catharines, please click here. Included is a wonderful prayer that we can each say during this time.

We thank you for your understanding.

Let us keep in our thoughts and prayers all those individuals, families, and communities and countries impacted by COVID-19 virus situation. May the situation be resolved soon and things may become normal by the grace of God.

-The Parish Team

CWL News:

The National Board of the Catholic Women's League of Canada is directing Diocesan and Provincial councils to cancel their May 2020 conventions and the annual National Convention for 2020 is cancelled until further notice.